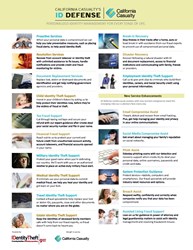 This more comprehensive ID Defense program makes it easier to stay one step ahead.
San Mateo, CA (PRWEB) September 04, 2013
California Casualty launches an enhancement to its identity theft protection services to include assistance with digital threats, such as e-mail and social media compromise, as well as data breach victim assistance. These enhanced features are now included as part of the identity theft services provided to automobile, homeowners, renters and condominium customers at no additional cost.
"Identity thieves are always finding new and unexpected ways to access and use sensitive information," said Mike McCormick, California Casualty Vice President. "This more comprehensive ID Defense program makes it easier to stay one step ahead."
Enhancements include:

Email compromise: A fraud specialist will provide guidance when an email has been hacked.
Social Media: Advice provided on the use of social media privacy settings, posting and profile management. If an account has been taken over, a fraud specialist will provide assistance.
Phish Assist: Email requests for private, personal or financial information can be referred to a fraud specialist for validation.
System Protection Guidance: Assistance provided if a computer, laptop, or tablet has been compromised or needs system protection help.
Breach Assist: Guidance provided in explaining the notification and remediation process.
Assisted Living Fraud Support: Assistance provided with the identity management for power of attorney and legal guardianship matters.
California Casualty's ID Defense program is provided by Identity Theft 911®, one of the nation's foremost providers of identity theft crisis resolution and education services. Customers are matched with dedicated fraud specialists to receive one-on-one guidance through the entire process. ID Defense is free and automatic to every California Casualty policyholder and their family household members. Complete details are available at http://www.calcas.com/identity-theft.
Headquartered in San Mateo, CA, with Service Centers in Arizona, Colorado and Kansas, California Casualty is a 99-year old company providing auto and home insurance for educators, law enforcement, fire fighters and nurses in 44 states. Learn more at http://www.calcas.com/.