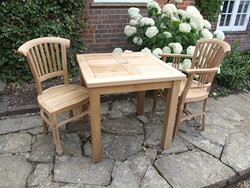 Such an extensive selection of teak garden chairs is one of our strengths.
Basingstoke, Hampshire (PRWEB UK) 3 September 2013
Chic Teak, a leading supplier of outdoor garden furniture, is introducing a new range of Edwardian styled dining chairs and is taking advanced orders pre shipment which is anticipated for the 2014 season.
These beautiful teak garden chairs have a formal Edwardian look about their style with an ornate and comfortable curved back and rounded seat. The ornate carving on the back rungs is duplicated on both the front legs and under the seat which gives these smart chairs a delightful regal look.
Classic in design and yet incorporating some modern twists these teak garden chairs will be stocked in both diner and carver formats and will look splendid under any of our dining tables wether they be square, rectangular, oval or round.
Made from high quality A grade teak these elegant dining chairs have been manufactured to the same high standards as our other chairs and tables. Requiring minimal maintenance, if cared for, these dining chairs can last a lifetime and provide endless hours of outdoor entertainment.
Perfectly sized both the armless diner and the armed carver are suitable for both large or small tables and would look admirable in any sized garden.
The new Chic Teak Edwardian dining chairs will be available individually so customers can mix and match as required or in a variety of sets for the 2014 season but can be pre-ordered for delivery in October 2013
Chic Teak Managing Partner, Robert Bowden, commented: "We pride ourselves in offering customer choice and now with these superb Edwardian dining chairs, customers can choose from over ten different styles. Such an extensive selection is one of our strengths which enables us to match a table and chair set to almost any sized garden and taste."
For more information on the new teak Edwardian chairs or any of Chic Teak's latest furniture ranges, visit their website at http://www.chic-teak.co.uk/ or telephone 0845 390 5000.