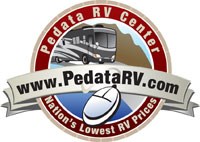 Get in touch with the American Red Cross and register with the Safe and Well list.
Phoenix, AZ (PRWEB) September 07, 2013
Pedata RV Center, the leader in used RVs for sale, has issued an advisory for campers on how to avoid falling victim to wildfires. Each year, especially during the summer months, wildfires become an issue. Because RVers and campers typically go off into areas that are highly susceptible to wildfires, such as national parks, mountainous areas, lakes, rivers and other remote areas with heavy woods or brush, they tend to become more susceptible to being placed in a situation of defense.
Recently, a tragedy involving a wildfire in Northern Arizona claimed the lives of 19 firefighters who were caught in the blaze. These were all highly trained fire-fighting professionals who knew what they were doing. If a fire can overcome them, it can overcome campers who are not vigilant to their surroundings.
Wildfires will happen; they are a fact of life. With a high degree of vigilance and common sense, however, campers can take steps to reduce risks of damage to themselves and their property. Pedata encourages members of the recreational vehicle and camping community to make a list of necessary items they should be carrying, and to formulate a wildfire preparedness plan. Here are some ideas that may help in doing so:

First, do all you can to prevent a wildfire; don't be the cause. Remember that any small spark can ignite dry grass or timber.
When practical, always back your recreational vehicle into the camping spot so that in the event of an evacuation it can be driven away without the complications of having to back out.
Should you see any smoke or flames rising from the wilderness, use a cell phone if possible to report it immediately. The sooner officials can reach the blaze, the better the chances of bringing it under control, keeping you out of harm's way.
Always keep your cell phone or any communication device fully charged, so that in the event of a fire, or any kind of emergency, you are able to report it, as well as keep up on the immediate situation (if you can get a signal to transmit or receive).
If you see smoke or flames and have reported it, tune immediately to NOAA Weather Radio or listen to local television or radio broadcasts to obtain instructions on what action to take and which roads you can use to evacuate the area.
If you receive instructions to evacuate the area, or if you feel you should, do so immediately and take the roads recommended by authorities. Any shortcuts you may know of may not be safe and could lead you directly into harm's way.
If the fire is nearby, don't worry about packing up all of your gear; it's not worth your life. Take only the essentials, including your emergency preparedness kit.
Remember that the wind can shift, and fire can jump from one area to another from blowing embers. It is not unusual to become surrounded by flames. In other words, time is of the essence to get clear of the area.
While evacuating, be mindful of the traffic situation that may occur, and maintain patience as people try to get out of the area. Drive with caution and avoid making poor decisions about going around people; the last thing you want is to become stranded or have a collision during this time.
Keep in mind that smoke can be just as harmful to humans as the flames themselves. If you encounter smoke, keep your windows rolled up and your air conditioner on the re-circulate mode to keep from drawing it into your RV or car.
Gerard Pedata of Pedata RV Center said, "Hopefully you will never have to go through a wildfire situation, but if you do, it pays to be as prepared as possible. Also, if this should occur, and you are evacuated from an area, it would be a good idea to get in touch with the American Red Cross and register with the Safe and Well list so that your loved ones know you're okay."
Pedata RV Center offers used RVs for sale, as well as used motorhomes, travel trailers, fifth wheels, and campers. Their full inventory is accessible online, and due to their low overhead costs they are able to offer competitive pricing in their industry.