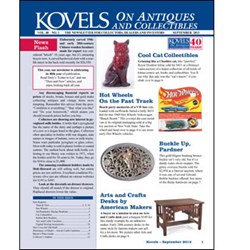 Cleveland, OH (PRWEB) September 03, 2013
"Kovels' on Antiques and Collectibles" newsletter kicks off its 40th year of publication with a new column called Then & Now. Readers will enjoy looking back to old articles to see how collectors' interests and prices have changed and what to expect in coming years. September's newsletter reviews some problems from 40 years ago that persist today, as well as updated values from Collector's Gallery questions and answers, an "Important Toy Sale" report and Buyer's Price Guide listings—all from Kovels' first issue, September 1974.
Recent auctions are covered in Kovels' September 2013 issue, too. A 1969 Hot Wheels VW "Beach Bomb" bus side-loaded with surfboards sold for $635 at a big toy auction in New York. See pictures and prices of other rare vintage Hot Wheels toy vehicles that date from the first five years the toys were made. Find flashy sterling silver and gold belt buckles that had collectors of Western memorabilia paying big bucks at a Denver auction. The buckles were small works of art, some featuring bucking bronco and longhorn designs, and most sold for more than $2,000. Kovels' newsletter also reports on early 20th-century desks in the Arts and Crafts style that sold at auction near Chicago, where desks by famous craftsmen like the Stickley brothers, Charles Limbert and the Roycrofters sold for affordable prices.
Examples of cat-inspired jewelry, sculptures and ceramics are pictured in Kovels' on Antiques and Collectibles September newsletter. They were from a 60-year "cat's meow" collection of kitten-centric antiques that auctioned near Philadelphia. Antique sewing accessories, from scissors and thimbles to chatelaines and etuis are also included in the issue, as well as recipe booklets that were given away as advertising premiums for products such as Jell-O and Arm & Hammer Soda. New Uses for Old Stuff shows a dress made from broken blue and white Chinese porcelain. The popular illustrated Collector's Gallery has answers to readers' questions about an old metal Penn "Incline" toy, hallmarks on a spoon, 19th-century fashion prints and a Mr. Peanut store display figure. September's Dictionary of Marks lists marks on Arts and Crafts furniture. The Buyer's Price Guide has current prices of dozens of antiques and collectibles.
"Kovels on Antiques and Collectibles" is available as a print subscription or as a digital downloadable version that is part of the Kovels.com Premium subscription.
Terry Kovel, well-known columnist and author, gives information and advice on collecting. She will discuss antiques and collectibles topics with accredited media. Photographs are available. Contact pr(at)kovels(dot)com.
Kovels.com, created by Terry Kovel and Kim Kovel, provides collectors and researchers with up-to-date and accurate information on antiques and collectibles. Kovels' Antiques was founded in 1953 by Terry Kovel and her late husband, Ralph. Since then, Kovels' Antiques has continually published some of America's most popular books and articles about antiques, including the best-selling "Kovels' Antiques and Collectibles Price Guide," now in its 46th edition. The Kovels' website, online since 1998, and free weekly email, "Kovels Komments," give readers a bird's-eye view of the market through up-to-date news, auction reports, free online Price Guide, a Marks Dictionary, readers' questions with Kovels' answers and much more.
Contact Information:
Liz Lillis
216.752.2252
Pr(at)kovels(dot)com