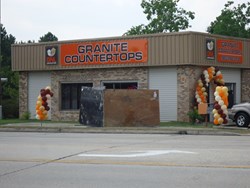 GNL Is the Place For Countertops and More!
Long Beach, MS (PRWEB) September 28, 2013
Think of Long Beach, MS, and two things come to mind: radishes and hurricanes. Long Beach is a city that has been defined by its history of agricultural production, and was known during the early 20th century as the 'radish capital of the world.' The Long Red variety of radish was appreciated far and wide, and particularly in the northern United States, where it was a favorite beer hall staple for many years. Though the smaller, rounder button radish has since raced ahead in the popularity stakes, Long Beach is still remembered fondly for its Long Reds.
Hurricanes also spring to mind when thinking about Long Beach. Along with the other towns and cities of the Gulf of Mexico, Long Beach was devastated by the impact of Hurricane Katrina in 2005, less than three weeks after residents celebrated they city's centennial. It is estimated that some 90% of buildings were destroyed in the coastal areas, with many cities still repairing and rebuilding almost a decade later.
It is with pleasure, then, that family-run GNL Contractors is including Long Beach residents in an offer not only to help with the repair work still underway following Hurricane Katrina, but also to celebrate the city's culinary past. GNL Contractors, who import marble and natural stone from around the world in order to offer a range of luxury home improvement products to their customers, are currently offering customers who purchase their kitchen countertops the opportunity to have either a free 15 year sealer warranty or a free under-mounted sink.
The GNL offer will run until the end of 2013, giving customers plenty of time to choose the perfect countertops for their home. Four colors are included, along with four edging styles (full bullnose, half bullnose, bevel, or eased edge), so that each homeowner can select a style and color that suits their kitchen.
The sealer warranty means that the natural stone of the countertops is protected from spillages and stains, even when foods or liquids are left unattended for several hours, so is the ultimate protection for countertops in a family kitchen. The stainless steel under-mounted sink, meanwhile, sits flush with the countertop to create a clean, modern look that will suit any home.
With more and more residents now moving to Long Beach and taking advantage of the rebuilt properties, competition in the housing market is set to increase. Homeowners and builders looking to stay one step ahead are invited to discuss how best they can add value to their properties with GNL Contractors. At just $32 per square foot for GNL's granite countertops, including measurement, fabrication and installation, Long Beach residents looking to improve their homes while storing up profits for when the time comes to sell simply can't go wrong.
To find out more about GNL Contractors and this incredible offer, call (985) 288-5112, visit their showroom in Slidell, LA or check out http://www.gnlcontractors.com/