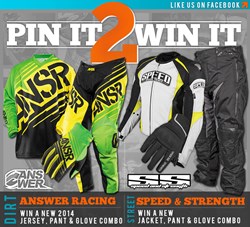 San Bernardino, Calif (PRWEB) September 04, 2013
Chaparral Motorsports is launching a new contest that could bring riders closer to their favorite new motorcycle gear. The competition is taking place on the retailer's social media pages and gives fans across the country the opportunity to participate in a contest and win big prizes just for indulging in their love of motorcycles.
All participants have to do is like Chaparral Motorsports on Facebook and follow the company on Pinterest. From there, they can pin some of their favorite images from the motorcycle superstore's page, which features everything from pictures of unique bikes to ideas on how to incorporate a motorcycle theme into a "leather and lace" wedding.
Winners will receive prizes like a 2014 Answer Racing jersey, pants and glove combination. This is not a reward motorcyclists will want to miss, especially because of the quality of the products. Answer Racing is one of the premier names in all of motorsports, and its dirt bike gear contains just the right blend of materials, which include leather as well as harder protective panels, without sacrificing comfort. Chaparral Motorsports has dozens of motorcycle apparel options from Answer Racing, so any winner should be able to find the color, size and style that suits their riding needs.
The second prize is a new Speed and Strength jacket, pants and glove combination. Much like its name suggests, Speed and Strength gear is known for its durability. Many of its motorcycle jackets and similar apparel boast waterproof and reinforced materials that can handle a variety of elements, as well as a number of modifications that can be made to customize the accessories. Whether it's removing a hood for increased visibility or adjusting fit for maximum comfort, riders will have no problem making the most of their Speed and Strength gear.
Motorsports enthusiasts can find Chaparral's Pinterest page at http://www.pinterest.com/chaparralmoto and the official Facebook page at http://www.facebook.com/pages/Chaparral-Motorsports/139023220932/.
About Chaparral Motorsports
With over 30 years in the motorsports industry, Chaparral Motorsports knows a thing or two about selling motorcycle gear, motorcycle tires and motorcycle parts. Value, lowest prices and trust are only a few qualities used to describe Chaparral Motorsports, but what you may not know is that we go the extra mile to offer a superior online shopping experience. When you shop with us, you get a secure and hassle-free experience, free shipping options and great customer service.