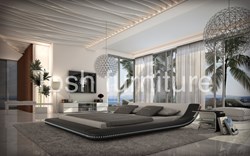 Modern Kids Furniture
Los Angeles, CA (PRWEB) September 05, 2013
It can be colorful though durable and appealing to little ones without losing the visual aesthetic for adults. Enter Fun Furnishings. DA Stores owner and partner explains, "Fun Furnishings is right in line with our mission of providing exceptional home furnishings from partners whose focus is as much on the materials used as it is the trends it attempts to set." Fun Furnishings for kids is the place where it all comes together, "and we're quite proud of our partnership with this family owned business."
The best part about this kids' furniture company is it covers the realm from preschool little ones up to college-bound teens. With a great selection of stylish chairs suited for a dorm room to fabrics and design elements that blend seamlessly with your home's current colors and themes, Fun Furnishings is the source for all of this and much more.
Most recently, a new line of signature sleeper sofas as well as novelty pieces, such as pillows and fabrics, have become the focus and it's a focus that's converting visitors into loyal customers.
Fun Furnishings is a family owned business which began quite simply: a frustrated shopper with two small toddlers and a need for practical, though fun and safe, furniture for their bedrooms. When it wasn't easily located, company owners decided to stop shopping for products that weren't there and instead, create them and ideally serve a purpose for other parents as frustrated as they were. Since 1993, that's exactly what Fun Furnishings has accomplished.
DA Stores is proud of its growing inventory of contemporary kid's furniture, courtesy of this company. Currently, it offers in its digital showroom more than 40 exclusive Fun Furnishings designs. From the stylish and classic blue chenille chair to sleeper design to the oversized micro-suede bean bags, DA Stores has just what today's parents are looking for.
As always, any purchases over $75 qualify for free shipping and all of the Fun Furnishings products are guaranteed to please. DA Stores, since 2006, has brought contemporary living room furniture, bedroom collections, dining tables and modern outdoor furnishings to customers at big savings. Visit the DA Stores website to learn more about Fun Furnishings or any of its other partnerships with highly respected home furniture designers.