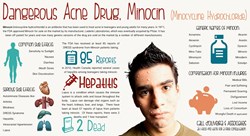 (PRWEB) September 04, 2013
Minocycline hydrochloride is an antibiotic that has been used to treat acne for years. The FDA first approved this medicine in 1971 and now it is sold under a variety of names including akamin, dynacin, minocin, minomycin, and solodyn. According to the American College of Rheumatology, the most common minocin side effects are "gastrointestinal symptoms, dizziness, and skin rash." It can also increase sensitivity to sunlight causing sunburns and changes in skin color (i).
Medical studies have shown that some patients who take drugs like dynacin and solodyn have experienced autoimmune responses. These types of reactions occur when the drug causes the immune system act abnormally. One such response that has been observed is "drug reaction with eosinophilia and systematic symptoms" (DRESS) syndrome. According to the American Journal of Medicine, minocycline hydrocholoride is one of forty-three other drugs that are known to cause DRESS syndrome. The Journal described this condition as "a potentially life-threatening syndrome including a severe skin eruption, fever, hemtologic abnormalities, and internal organ involvement" (ii).
Minocin has also been linked to autoimmune hepatitis and lupus. Hepatitis refers to a condition where the immune system interacts with the liver. The white blood cells attack the organ causing liver damage which can lead to liver failure. According to Health Canada, three teenagers suffered this reaction after taking minocin (iii). Lupus refers to a condition where an abnormal immune system response is experienced throughout the body. According to the British Medical Journal, eleven cases of lupus have been linked to drugs like akamin and solodyn. The Journal found that "two patients died while taking the drug for acne and a further patient needed a liver transplant" (iv).
Attorney Paul d'Oliveira stated, "Sometimes people will trust that a medicine is safe just because it has been on the market for a long time. In reality, people should always consult their doctors before regularly using a medicine. Our law firm is dedicated to helping people who have been injured because they were not adequately warned. We are now working with a solodyn lawyer who is filing acne medicine lawsuits."
The Minocin infographic has a comprehensive list of the generic versions of this drug. People who have been injured by this drug may be entitled to compensation for medical bills, lost income, pain and suffering, loss of consortium (if married), or wrongful death (if applicable). d'Oliveira & Associates has been investigating minocycline hydrochloride side effects. The law firm works with some of the more experienced minocin lawyers and there are no legal fees unless you receive a settlement or award. Call the firm toll-free at 1-800-992-6878 or fill out a contact form online.
(i) American College of Rheumatology, 2010.
rheumatologydocs.com/assets/1/Page/Minocycline.pdf
(ii) The American Journal of Medicine, July 2011.
aahs.org/medstaff/wp-content/uploads/DRESSsyndromeAJM2012.pdf
(iii) Health Canada, April 2012.
hc-sc.gc.ca/dhp-mps/medeff/bulletin/carn-bcei_v22n2-eng.php
(iv) British Medical Journal, January 1996.
ncbi.nlm.nih.gov/pubmed/8563540