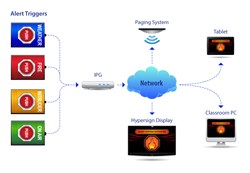 I would recommend Hypersign because it works. - Lance Taylor
Greenville-Spartanburg, SC (PRWEB) September 03, 2013
Hypersign releases new emergency alert system to work with its new IPG Gateway. This new software has been specifically designed with the K-12 educational system in mind.
Hypersign software allows you to take over full control of the display system with a push of a button. In the event of inclement weather, a fire or an intruder, school administration can display appropriate emergency alerts to every Hypersign digital signage display, classroom computer, teacher's tablet, and paging system in 500 milliseconds. The alerts can be deactivated at any time and the displays will go back to their preprogrammed content. The Hypersign Emergency Alert software can also be used by the school administration to take over the displays for campus wide announcements or special news.
The IPG Gateway system interfaces using a standard cat5 patch cord with a single RJ45 connector and fan out cable to connect to alarm triggers within a facility. Each IPG-T unit can service up to 4 physical triggers.
When an event happens, the appropriate school faculty will issue an alert that will then travel to the IPG Gateway. Once it reaches the gateway it will be transmitted through the school's network to the connected devices. The alert will display visual instructions along with audible messages to the overhead paging system. By being able to get this information out quickly Hypersign can potentially save lives in an emergency situation.
Lance Taylor, Director of Instrumental Technology in Laurens County District 56 says, "Hypersign has been a great product because it gives us the ability to have multiple video feeds and we have displays in all the classrooms that we can take over at any time if we have any announcements that need to be made. I would recommend Hypersign because it works."
AVIONEX Software is an award winning software product development company focusing on building product that improves the lives of people. The Hypersign product is known for its intuitive interface making it the perfect digital signage solution for education (K12 and higher Ed) and healthcare. Hypersign, and other AVIONEX software products are available to purchase from AV Integrators throughout the US and Canada.