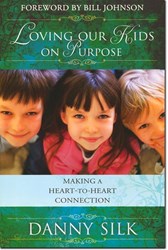 This book will teach parents to train their children to manage their freedoms and protect their important heart to heart relationships
Shippensburg, Pa (PRWEB) September 05, 2013
Destiny Image is pleased to announce the newly, redesigned version of author, Danny Silk's, classic book, "Loving Our Kids on Purpose."
In this book, Silk brings the principles of the Kingdom of God and revival into the strategic role of being a parent.
"2 Corinthians 3:17 tells us that, "where the Spirit of the Lord is there is freedom,"" said Silk, "and this book will teach parents to train their children to manage their freedoms and protect their important heart to heart relationships."
Many of today's parenting approaches focus on training children how to learn and accept being controlled by well-meaning parents and adults. However, as Silk teaches in his book, God is not going to control us as we gain independence from our parents. We must learn to control ourselves.
Silk serves on the Senior Management Team at Bethel Church in Redding, CA. He is the director of Global Transformation Institute and oversees Bethel Staff development. Silk and his wife, Sheri, are the founders of Loving on Purpose Educational Services, a ministry to families and communities worldwide. They have been married over 28 years and have three children and three grandchildren.
Destiny Image, located in Shippensburg, Pa, was founded in 1983 by Pastor Don Nori, Sr. It seeks to accurately represent authors who have a call to share God's present word to His people and to make these authors easily accessible to the Christian body around the world in every form of media possible.
FOR PRESS INQUIRIES, INTERVIEWS AND REVIEW COPIES:
Kristen Adams
(717) 532-3040, Ext. 135
kadams(at)norimediagroup(dot)com