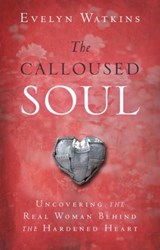 Get ready to smooth out the hard places of your soul, receive healing for the past, and enjoy love and the life the way God originally intended for you—with an open, uncalloused heart!
(PRWEB) September 24, 2013
Destiny Image and author, Evelyn Watkins, releases new book, "The Calloused Soul," this month.
Watkins' new book is focused on the simple premise that: "Pain is a part of life."
"When dealing with a difficult situation or event, our bodies, both physically and emotionally, develop callouses to instinctively shield us from further hurt or injury," said Watkins. "While this may be necessary and even helpful for a season, there comes a time when these callouses, which once protected us, become a hindrance to experiencing the abundant life, love and relationships we were destined to enjoy. "
In her book, Watkins teaches women how resilience is the key to overcoming past hurts and that their deepest wounds can become defining moments that shape their life message. Through out the pages of her breakthrough book, Watkins carefully prepares the reader to smooth out the hard places of their souls, so that they can receive healing for the past, and enjoy love and life the way God originally intended.
An author, trainer, life coach and lover of Christ, Watkins is a riveting voice to today's over-achieving woman. Overcoming the impediments of sexual, physical and emotional abuse, Watkins' transparent and transformative message of hope will inspire women everywhere to walk in wholeness and experience victory in every area of life. She is the founder of "Evolve with Ev," a weekly coaching program specifically for women, which is a part of her wider company, Watkins Development Group.
Destiny Image, located in Shippensburg, PA, was founded in 1983 by Pastor Don Nori, Sr. It seeks to accurately represent authors who have a call to share God's present word to His people and to make these authors easily accessible to the Christian body around the world in every form of media possible.
For press inquiries, interviews and review copies:
Kristen Adams
(717) 532-3040, Ext. 135
kadams(at)norimediagroup(dot)com