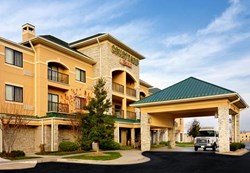 "Our key focus is to bring in innovative parking options at the best rates possible."
Springfield, MO (PRWEB) September 03, 2013
Greenbee Parking, a rising airport parking company, has just announced a series of new offers for their customers in Springfield in their latest web upgrades. All these offers promise cheaper SGF long-term airport parking rates which are all set to bring in significant benefits for all. Springfield is home to many industries which make it an important business hub and financial center. Therefore, along with the usual tourist crowd, the Springfield (SGF) airport also sees a high volume of business travelers flying in and out of the city. Unfortunately, airport parking has suffered with no major improvements made to ease travelers' parking woes. Thankfully, with service providers like Greenbee Parking there is now enough parking space to choose from and that too at very affordable rates. Now travelers can hope to save on their airport parking expenses whether they book a space for long term or for a shorter duration.
"Our key focus is to bring in innovative parking options at the best rates possible," said Christine Cooper – Marketing Coordinator, Greenbee Parking. "Our services are designed to match the specific demands of each airport so that our customers can benefit 100% from our offers. For Springfield we wanted to do away with the space constraint and the high price tags at the same time, hence the introduction of cheaper SGF long-term airport parking rates. All who avail our services can simply forget about airport parking worries from now on."
Springfield-Branson National Airport Parking Information
Springfield-Branson National Airport is a busy airport connecting with major cities all over the country. It serves Springfield and Branson along with their neighboring counties which make it quite a busy hub for tourists in the state. Its strategic location near the central business district of Springfield makes it the airport of choice for business travelers here, adding to its passenger footfalls. Increasing air and ground traffic has led to demands of infrastructural improvements. The airport authorities have announced the renovations are slated to begin in 2013 and will hopefully lead to better airport experience in future. But present conditions are still difficult on travelers and it is only due to service providers like Greenbee Parking that one gets to choose from ample parking space without paying outrageous parking fees. The company is constantly coming up with new offers at cheap SGF long-term airport parking rates, all of which can be tracked through their web upgrades.
The Greenbee Airport Parking Solution
Greenbeeparking.com is the connection between consumers and parking vacancies in close proximity to major airports and seaports. The parking spaces are very affordable because the company has negotiated discounted rates with major hotel chains for the parking spaces that are not currently occupied. Here's how it works.
Greenbee Parking puts the available inventory of parking spaces on their website to be reserved by business and leisure travelers looking for cheap airport parking. This alternative method for finding parking equates to significant savings for the traveler.
About Greenbee Parking
Greenbee Parking is the nation's most innovative long-term parking company, with a new way of making long-term parking affordable. The company is rapidly adding new airports to its network. Check us out today to save on your parking space.