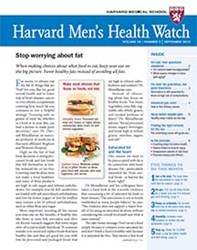 Boston, MA (PRWEB) September 13, 2013
When it comes to healthy eating, dietary fat often tops the list of things that are "bad" for health. But such lists ignore the fact that some fats are good for you. What's more, scrupulously counting how much fat you consume or avoiding all fats indiscriminately are not helpful moves, according to the September 2013 issue of the Harvard Men's Health Watch.
"Focusing only on grams of total fat, whether in a food or in your diet, can lead a person to make poor decisions," says Dr. Dariush Mozaffarian, an associate professor of medicine at Harvard-affiliated Brigham and Women's Hospital.
One choice to avoid is eating processed foods and fast foods that bill themselves as low-fat, reduced-fat, or fat-free, explains Dr. Mozaffarian, an expert on how diet and lifestyle influence the risks for disease. Lowering total fat alone does not make a food healthier, and many of these products are high in salt, sugar, and refined carbohydrates.
Instead of obsessing about fats, focus on eating healthy foods—including those that contain healthy vegetable fats. "Eat fruits, vegetables, nuts, fish, vegetable oils, whole grains, and modest portions of dairy," Dr. Mozaffarian advises. "Avoid processed meats, sugary beverages, and foods high in refined grains, starches, sugars, and salt."
Read the full-length article: "Stop worrying about fat"
Also in the September 2013 issue of the Harvard Men's Health Watch:

Getting a good night's sleep despite chronic pain
How to choose the right lubricating drops to relieve dry eyes
Why it's important to get a flu shot
Causes and solutions for intestinal gas
The Harvard Men's Health Watch is available from Harvard Health Publications, the publishing division of Harvard Medical School, for $20 per year. Subscribe at http://www.health.harvard.edu/mens or by calling 877-649-9457 (toll-free).