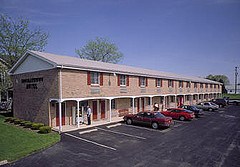 "Our services are designed to match the needs of every individual airport and their idiosyncrasies."
Harrisburg, PA (PRWEB) September 04, 2013
Greenbee Parking, a dynamic young airport parking solutions firm, has announced a series of new deals for travelers using the busy Harrisburg (MDT) airport. Now Greenbee customers will not only have the choice of numerous parking options but also avail them at cheap MDT airport parking rates which means significant savings for all. Like every other busy airport in the country, Harrisburg (MDT) has also seen rising air and ground traffic and along with it rising demands for more airport parking space. Despite plans and improvements, matching the existing needs and tamping down on the steep rates hasn't happened so far, leading to increasing customer discontent. Service providers like Greenbee Parking has stepped in to fill this breach with their services and excellent customer support systems which has gone a long way in easing these parking woes. What is remarkable is that it is not just long term customers who benefit from the Greenbee offers but also those who opt for short term and one time bookings.
"At Greenbee, we have something for everyone here," said Christine Cooper – Marketing Coordinator, Greenbee Parking. "Our services are designed to match the needs of every individual airport and their idiosyncrasies. The new deals and cheap MDT airport parking rates will ensure that travelers using Harrisburg (MDT) airport will no longer have to face the usual traffic, parking and price woes that they have been till date."
Harrisburg International Airport Parking Information
Harrisburg International Airport is a busy airport which caters to all the major cities in Pennsylvania, in and around the capital Harrisburg. It is a seat of culture, heritage and American history which makes it a major American tourist spot. Thousands of tourists flock to the city and its surrounding regions all around the year. Healthy economy and employment rates make it one of the best places to stay in the US. As the capital of the state of Pennsylvania it is also a major business and finance hub which in turn leads to a heavy volume of business travelers commuting in and out of the Harrisburg (MDT) airport. Rising air traffic leads to rising ground traffic as well and this leads to increasing demands for airport parking space. Now with the new deals and offers from service providers like Greenbee Parking travelers can book a secure spot any time without paying through their noses. Cheap MDT airport parking rates has made it possible for both long and short term bookings to bring in significant savings.
The Greenbee Airport Parking Solution
Greenbeeparking.com is the connection between consumers and parking vacancies in close proximity to major airports and seaports. The parking spaces are very affordable because the company has negotiated discounted rates with major hotel chains for the parking spaces that are not currently occupied. Here's how it works.
Greenbee Parking puts the available inventory of parking spaces on their website to be reserved by business and leisure travelers looking for cheap airport parking. This alternative method for finding parking equates to significant savings for the traveler.
About Greenbee Parking
Greenbee Parking is the nation's most innovative long term parking company, with a new way of making long term parking affordable. The company is rapidly adding new airports to its network. Book with us now to save!