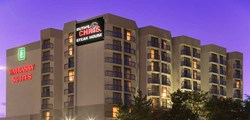 "Our goal is to constantly come up with new ideas to serve our clients better."
Birmingham, AL (PRWEB) September 05, 2013
Greenbee Parking, a fast growing airport parking firm, has just announced that Embassy Suites will be their preferred hotel partner in Birmingham. This is yet another strategic move on behalf of the young company which has already created waves in the airport parking industry with their cheap rates and great service. Now there will be more options for Greenbee customers, both in terms of security and savings with the new and discounted BHM long term airport parking rates. It is particularly beneficial for frequent fliers who hate commuting through the mad rush hour and airport traffic. Embassy Suites is conveniently located near the Birmingham (BHM) airport and is away from the traffic crunch. One can park here at leisure and simply take the shuttle ride to the airport without worrying about parking space or steep rates. To park at this secure location there is no need to book a room here either.
"Our goal is to constantly come up with new ideas to serve our clients better," said Christine Cooper – Marketing Coordinator, Greenbee Parking. "The partnership with Embassy Suites is yet another step forward in this direction. Now we can offer better parking options at cheap BHM long term airport parking rates for our customers and provide both safety and savings at the same time."
Birmingham-Shuttlesworth International Airport Parking Information
Birmingham-Shuttlesworth International Airport ranks among the top 75 airports in the US. It has over 135 arrivals and departures on a daily basis, connecting with over 40 cities. According to the official website of the airport, it has served over 2.9 million passengers in 2011 alone, a number which is sure to rise in future. It caters to the Greater Birmingham area along with all the surrounding cities of southeastern and Central Alabama. The city is home to major industries, universities as well medical institutes leading to volume business travel in and out of here. These along with the tourist flow leads to high domestic passenger footfall and very high ground traffic. Lack of enough airport parking has led to steeper rates over the years along with a mad scrambling for space.
Thankfully, there are now service providers like Greenbee Parking who along with their hotel partners like Embassy Suites can step in and provide solid solutions to the parking issue. Ample options, easy booking, excellent customer support now combine with cheap BHM long term airport parking rates to make it easy for all Greenbee customers to avail great parking spots at Birmingham (BHM) airport.
The Greenbee Airport Parking Solution
Greenbeeparking.com is the connection between consumers and parking vacancies in close proximity to major airports and seaports. The parking spaces are very affordable because the company has negotiated discounted rates with major hotel chains for the parking spaces that are not currently occupied. Here's how it works.
Greenbee Parking puts the available inventory of parking spaces on their website to be reserved by business and leisure travelers looking for cheap airport parking. This alternative method for finding parking equates to significant savings for the traveler. These savings are sometimes as much as 75% less than parking at the airport or seaport.
About Greenbee Parking
Greenbee Parking is the nation's most innovative long term parking company, with a new way of making long term parking affordable. The company is rapidly adding new airports to its network. Check us out today to start saving!