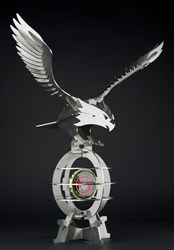 It's not just a piece of art, it's a lifestyle.
(PRWEB) September 04, 2013
LF Steelworks, an Indiana-based company, debuted the "Because Your Wife Won't Let You Park Your Bike in the Living Room" video on YouTube this week to pay tribute to motorcycle enthusiasts who just cannot seem to part ways with their beloved bikes. As depicted in the video, LF Steelworks now makes it possible for motorcycle lovers to bring a piece of the road into their living rooms with the Flight of Honor Eagle.
"If you love the feel of the open road, or know someone who does, there is no better way to pay tribute than with a Flight of Honor. It's not just a piece of art, it's a lifestyle," said LF Steelworks Chairman Alex Foris. "Eight pounds of laser cut stainless steel sitting on your mantel is definitely a conversation starter."
The Flight of Honor Eagle weighs 8 pounds, stands a full 21 inches tall, and is 12 inches deep with a 17.5 inch wingspan. There are two base options for the Flight of Honor including a mini-motorcycle option. Each Flight of Honor Eagle is crafted from quality stainless steel inspired by sleek motorcycle designs. Del Littrell, creator of the Flight of Honor, is an avid motorcyclist and takes pride in his creation.
Littrell states that, "Each Flight of Honor, while hand designed, is machine cut and polished. Each product is hand inspected for any imperfections."
About LF Steelworks:
LF Steelworks was launched by two American veterans in January 2013. The LF Steelworks Flight of Honor Eagle is a unique piece of artwork created for motorcycle enthusiasts, the military market, and makes a statement as a corporate award. All LF Steelworks products are made in the USA and are customizable. LF Steelworks finds inspiration for the design and creation of the Flight of Honor from family and friends. Avid motorcyclists and veterans of the US Armed Forces, the principal partners of LF Steelworks think there is no better way to continue to pay tribute to hobbies and heroes than with a Flight of Honor. To learn more about LF Steelworks, please visit http://www.lfsteelworks.com .