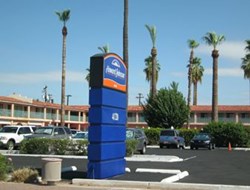 "Our focus is to provide the best of service and offer complete customer satisfaction."
Phoenix, AZ (PRWEB) September 09, 2013
Greenbee Parking, a rising young airport parking solution firm, has been hailed as one of the clear winners in the latest PHX Airport parking reviews received by their customer's feedback, which can be found on the website. The young brand has already created great waves in the industry due to their innovative parking deals and extremely affordable rates. What customers seem to have experienced further is quick and easy booking options along with a strong customer support service which is there to help whenever there is need. The icing on the cake is of course the discounted price which has completely changed the way people will regard airport parking from now on. There are no more space crunches and congestion to deal with and no more big dents in the travel budgets either. Another major benefit experienced by customers is that the benefits are not limited to only long term bookings. Those who are opting for short term bookings or even one time options still get to save much more than they would with the regular Phoenix (PHX) airport parking fees.
"Our focus is to provide the best of service and offer complete customer satisfaction," said Christine Cooper – Marketing Coordinator, Greenbee Parking. "The PHX Airport parking reviews have been very motivating for us. They show that we are on the right path and give us further impetus to come up with more innovative deals and options."
Phoenix Sky Harbor International Airport Parking Information
Phoenix Sky Harbor International Airport is one of the largest and busiest airports of the country and the world as well. With 1200 arrivals and departures it sees more than 100,000 passenger footfalls on a daily basis. It caters to Phoenix, its neighboring areas as well as some counties of other southwestern states. The airport is a major cargo and freight hub for the southwest. With Phoenix being a major business and finance center, PHX airport sees a high volume of business travelers flying in and out every day. Along with being the hub for all tourist attractions in the state and nearby regions, it is also the preferred airport for flying out to the exotic destinations like Hawaii, Mexico and other South American countries. Naturally, the ground traffic is very heavy here which has led to massive space crunch when it comes to airport parking. Such a high volume of passenger footfalls and lack of parking space combine to create terrible traffic congestion adding to the travel woes. Greenbee Parking has come into the scene at an opportune moment and eased the tension with their innovative offers, reliable deals and affordable rate. The latest PHX Airport parking reviews show how much their service has positively affected travel and parking experience here in Phoenix.
The Greenbee Airport Parking Solution
Greenbee Parking has effectively bridged the gap between parking problems and solutions at both airports and major seaports. They have tied up with major hotels for available parking spaces at discounted rates which they offer their customers across the nation who can now save up to 75% of their parking costs.
All they need to do is visit Greenbeeparking, select their city or airport of choice, choose the parking spot and pay through a secured payment gateway. There is a comprehensive list of airports and parking spots to choose from. Greenbee's wide network makes it possible for every customer who logs in to find a solution.
About Greenbee Parking
Greenbee Parking is the nation's most innovative long term parking company, with a new way of making long term parking affordable. The company is rapidly adding new airports to its network. Visit us today to secure your discounted spot!