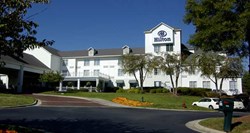 We want every traveler to know that the best services do not necessarily come with a high price tag.
Raleigh Durham, NC (PRWEB) September 10, 2013
Greenbee Parking, a growing airport parking services firm, has just announced a series of new parking deals through the latest upgrades on their official site. The new deals will offer multiple parking options for both long term and short term bookings and at much more affordable prices than the usual RDU airport parking rates. Raleigh Durham is a major business and finance hub and home to some of the finest educational institutes. It is also fast becoming a preferred location for new age energy and technology companies due to its low cost of living and ready availability of intelligent workforce. As a result, it sees a very high volume of business travel on a daily basis which along with the annual tourist flow contributes to very high air and ground traffic figures. This, in turn, has given rise to parking space crunch and demands for airport parking expansion. Service providers like Greenbee Parking have been a bonus with their ample parking spaces and discounted fees, doing away with all airport parking woes in a jiffy.
"We want every traveler to know that the best services do not necessarily come with a high price tag," said Christine Cooper – Marketing Coordinator, Greenbee Parking. "To ensure that we can drive home this message across the nation we have come up with various deals designed to match individual airport parking needs, which can be readily viewed through our web upgrades. The new cheap and discounted RDU airport parking rates are intrinsic parts of this endeavor and means to bring about 100% satisfaction for our customers."
Raleigh–Durham International Airport Parking Information
Raleigh–Durham International Airport ranks as one of the busiest airports of the world with over 400 arrivals and departures scheduled daily, connecting with over 40 destinations nationally and internationally. Raleigh–Durham falls under the Research Triangle which makes it home to major business, finance, technology and educational institutes along with the country's leading research facilities. The combined business travel leads to over almost 10 million passenger footfalls in RDU on a yearly basis. The airport serves the counties of Raleigh, Durham, Wake and their surrounding regions which add to significant leisure travel as well. Naturally, this means heavy demand for improving the airport parking, a situation that has been much more controlled with the advent of service providers like Greenbee Parking. Now, there are multi-level parking options at affordable RDU airport parking rates for both long term and short term customers, through innovative deals which have been announced through their latest web upgrades.
The Greenbee Airport Parking Solution
Greenbeeparking.com is the connection between consumers and parking vacancies in close proximity to major airports and seaports. The parking spaces are very affordable because the company has negotiated discounted rates with major hotel chains for the parking spaces that are not currently occupied. Here's how it works.
Greenbee Parking puts the available inventory of parking spaces on their website to be reserved by business and leisure travelers looking for cheap airport parking. This alternative method for finding parking equates to significant savings for the traveler.
About Greenbee Parking
Greenbee Parking is the nation's most innovative long term parking company, with a new way of making long term parking affordable. The company is rapidly adding new airports to its network. Book with us today to save on your parking spot.