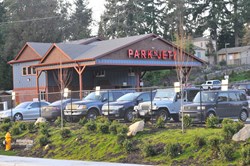 "Our special rates will only improve on the customer experience we already offer."
Seattle, WA (PRWEB) September 11, 2013
Greenbee Parking, a dynamic young airport parking solutions firm, has just announced a series of new deals and discounts for travelers using the busy Seattle-Tacoma (SEA) airport. Armed with the new offers, travelers will find securing a parking spot much easier than before but also will do so at extremely competitive rates. The eclectic atmosphere of Seattle is a perfect blend of commerce and culture which makes it a popular business and tourist hub. Despite the incessant rains, the city is known for its cosmopolitanism and sophistication and ranks as one of the most preferred places to stay in the US. It also is the hub for connecting with all of the tourist attractions in the state as well as neighboring areas, which lead to pretty heavy passenger footfalls at SEA round the year. With the cheap Seattle Tacoma airport parking rates offered by Greenbee Parking one can expect to do away with all the airport parking woes. Getting a parking space instantly and making significant savings at the same time is now a definite reality.
"Our special rates will only improve on the customer experience we already offer," said Christine Cooper – Marketing Coordinator, Greenbee Parking. "With the new cheap Seattle Tacoma airport parking rates travelers in Seattle will no longer have to worry about rising rates every time they travel. We will ensure that from booking the space to driving away at leisure they have a positive experience every step of the way."
Seattle–Tacoma International Airport Parking Information
The Seattle-Tacoma International Airport is the 15th busiest airport of the country and simultaneously serves the cities of Seattle and Tacoma, along with the entire western region of the Washington state. The airport handled over 33.2 million passengers in 2012 and connects with major destinations, nationally as well as internationally. It ranked 21st in terms of cargo volume and 23rd in terms of total aircraft operations. It is also a major hub for Alaska Airlines and Horizon Air which along with the adjacent seaport makes it an extremely busy cargo and transport hub of the nation. As you can well imagine the picture that comes out of all these figures is a huge volume of ground traffic and hence a high demand for parking space. Despite being noted as having the world's largest parking structure with a 13,000-car parking garage there is still a huge gap between the demand and supply of space. Fortunately with service providers like Greenbee Parking stepping in to fill in this yawning gap there is a definite solution for authorities and travelers alike. Now Greenbee customers can easily book a secure parking spot and that too with cheap Seattle Tacoma airport parking rates which means significant savings all around.
The Greenbee Airport Parking Solution
Greenbeeparking.com is the connection between consumers and parking vacancies in close proximity to major airports and seaports. The parking spaces are very affordable because the company has negotiated discounted rates with major hotel chains for the parking spaces that are not currently occupied. Here's how it works.
Greenbee Parking puts the available inventory of parking spaces on their website to be reserved by business and leisure travelers looking for cheap airport parking. This alternative method for finding parking equates to significant savings for the traveler.
About Greenbee Parking
Greenbee Parking is the nation's most innovative long term parking company, with a new way of making long term parking affordable. The company is rapidly adding new airports to its network. Check us out today to save big on your parking space!