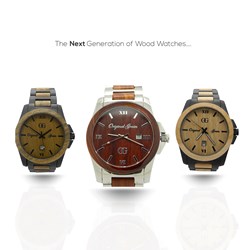 In the spirit of maintaining our promise to innovate and create truly unique designs, we ask one thing from you: Stay Original
San Diego, California (PRWEB) September 17, 2013
Original Grain has officially released, The Next Generation of Wood Watches. A San Diego based company, Original Grain, has introduced an entirely new type of wood watch. By incorporating stainless steel into the wood watch design, they have been able to create one of the most unique watches to date.
Brought to life by two brothers, Ryan and Andrew Beltran, and their lifelong friend, Jasem Dulany, they were inspired by their experience growing up in the Pacific Northwest. It was their natural affinity for wood products that helped them create the first design.
Back in March, Original Grain launched a Kickstarter Campaign, raising just over $390,000 in 30 days. And, with more than 2,200 people supporting their new design, it's safe to say Original Grain has put themselves on the map.
Original Grain Watches feature 100% all-natural wood in all of their designs. With the addition of stainless steel, they provide the real watch feel and durability that all wood watches seem to lack. Using a Japanese Miyota quartz movement and genuine sapphire crystal glass, Original Grain truly is, "the next generation of wood watches".
Original Grain offers a style for every occasion, with four men's styles and two women's. Take your pick from Indian Rosewood, Maple, Green Sandalwood, and Black Sandalwood. The women's designs are offered in Indian Rosewood and Maple wood.
You can order your Original Grain Watch at Originalgrain.com for $195.