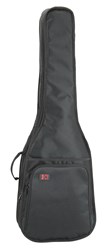 Petaluma, CA (PRWEB) September 10, 2013
Just in time for the holiday shopping season, Kaces unveils its latest innovation - GigPak Series gig bags for electric, bass, classical and acoustic guitars. GigPak bags are designed to be affordable, portable and include ample storage, while also delivering an optimal balance of value and function.
Kaces GigPak guitar bags are constructed using double layer foam padding for durability and reliable protection. All bags also include multiple pockets, and padded backpack straps for musician's on the go. These simple, yet highly functional bags are designed for practicality, and with pricing every shopper can afford, GigPak gig bags are the perfect gift this holiday season.
Visit http://www.kaces.com to learn more
Kaces is a leading global supplier of guitar, fretted instrument and music accessories for musicians of all genres. All Kaces products are designed based on the latest technology and materials, and Kaces is dedicated to providing high quality, affordable accessories, for beginners to professional musicians.
The Kaces product line includes over 200 models for band, orchestra, percussion, guitar, keyboard, DJ and pro-audio applications.