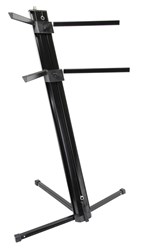 Petaluma, CA (PRWEB) September 11, 2013
Strukture, the leading manufacturer of music accessories, officially announces the arrival of the new SK2T 2-Tier Keyboard Column Stand. As the latest addition to the Strukure line of keyboard accessories, the striking, ultra-modern single-column design of the SK2T is a perfect blend of form and function.
The SK2T Keyboard Stand is constructed of heavy-duty steel and lightweight aluminum for a durable yet portable design. Each stand includes 2 sets of height adjustable arms for optimal playing comfort, and all arms retract into the center column of the stand for easy storage. Each set of arms accommodates 1 keyboard up to 110 lbs, for a total capacity of 2 keyboards and 220 lbs., while weight bearing legs provide structural stability and fold into the base for lightning fast setup or teardown. SK2T stands also conveniently include a threaded attachment for a mic clip or boom arm, as well as 2 D-rings that can be used to easily add a carry strap.
SK2T column stands are the perfect solution for keyboardists with small spaces, musicians on the go, studios and more.
Visit us at http://www.strukturemusic.com to learn more today!
Strukture is a premier manufacturer of music accessories including keyboard stands, keyboard benches, cables, music stands, guitar stands and parts. Strukture is dedicated to designing products that fulfill the needs of all musicians, from students to professional touring artists.