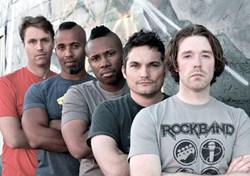 "They sing up a storm in perfect a cappella harmony… Their music is as current as tomorrow's news." – San Francisco Chronicle
San Rafael, CA (PRWEB) September 23, 2013
THE HOUSE JACKS are a pioneering a capella rock band whose music has been the soundtrack for NBC's "The Sing-Off," ESPN's "Monday Night Football," and more. They return to Kanbar Center for the Performing Arts at the Osher Marin JCC on Saturday December 7, 2013 @ 8pm for a celebration of A Capella.
This collective of amazing musicians have performed thousands of shows and have shared the stage with some of the biggest names in music. Including Ray Charles, James Brown, Train, LL Cool J, and Crosby Stills and Nash, at venues from Carnegie Hall to Candlestick Park, and has performed and/or recorded commercials for celebrity and corporate clients like President Bill Clinton, Larry King, Aaron Spelling, Coca Cola, and Verizon Wireless.
Opening for the House Jacks is Marin's own teen a capella group 'Til Dawn, Youth in Arts award winning ensemble comprising entirely of high school students. The group is lead by Director Austin Willacy, who also happens to be a member of the House Jacks.
Video (promo)
Tickets: Advance: $22| Day of: $25 | 17 and under $10
What to Expect: The unexpected from A capella with amazing harmonies & vocal instrumentals
-Some Table seating available
-General Admission- First Come First Served
-Concessions include beer/wine/signature cocktail/snacks
Tips:
-Purchase Tickets in advance/at the Center for best pricing
-Typically plenty of space, but give yourself time for parking
A "house jack" is what you use when you want to move a house. Anyone who's seen them perform live will tell you that the name is appropriate. "Raise the roof" takes on a whole new meaning with the House Jacks.
More:
The Kanbar Center for the Performing Arts is the Performing Arts Division of the Osher Marin Jewish Community Center in San Rafael, California. Celebrating the power of music, voice, humor, taste, culture, movement and words throughout the community for over 20 years, presentations include classical music, club style dance events, comedy, concerts, theater and performances in the grand Hoytt Theater, lectures, chats and demonstrations in the Kurland lounge and great multi-cultural music, dancing & fun for all ages, outdoors under summer skies, on Swig Field.
All are welcome; no membership is required to attend. The Center is a long-standing Marin non- profit, centrally located in Marin County and just 1/4 mile east off Hwy 101.