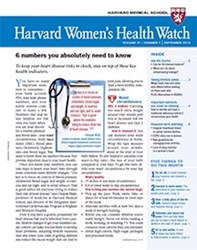 Boston, MA (PRWEB) September 12, 2013
For aching joints or a throbbing head, millions of Americans turn to aspirin, ibuprofen (Advil, Motrin), or other nonsteroidal anti-inflammatory drugs (NSAIDs) every day. They are generally safe, but if not used carefully NSAIDs can have a dark side, according to the September 2013 Harvard Women's Health Watch.
NSAIDs are widely used because they perform double duty. "They not only relieve pain, but they reduce inflammation too," says Dr. Lucy Chen, an assistant professor at Harvard Medical School and attending physician in the anesthesia, critical care, and pain medicine department at Massachusetts General Hospital.
NSAIDs work by blocking the production of chemicals in the body that contribute to pain and inflammation. Yet like all medications, NSAIDs have side effects and NSAIDs may not be right for everyone.
Because many women take NSAIDs daily for months or years to relieve chronic pain (such as arthritis and low back pain), they can have side effects. These include upset stomach, gastrointestinal bleeding, and kidney damage. Chronic use of NSAIDs can also increase the risk of having a heart attack or stroke.
For most women, the occasional ibuprofen or naproxen tablet shouldn't cause problems. But women who take them for longer periods of time should talk to their doctor. "Usually we don't recommend that patients take an NSAID long-term," says Dr. Chen.
Doctors recommend taking NSAIDs at the lowest possible dose and for the shortest duration to relieve symptoms. In addition to staying vigilant for side effects, there are ways to lower side effect risks while taking NSAIDs long-term. For example, taking a proton-pump inhibitor (PPI) drug such as omeprazole (Prilosec) can reduce the chances of developing an ulcer. Eating a healthy diet, exercising regularly, and treating conditions that can contribute to heart disease, such as high blood pressure and diabetes, can help lower risk of heart disease.
Read the full-length article: "Taking NSAIDs safely".
Also in the September 2013 issue of the Harvard Women's Health Watch:

6 health numbers you absolutely need to know
Important nutrients you could be missing
Tai chi for balance
New guidelines for managing knee arthritis
Harvard Women's Health Watch is available from Harvard Health Publications, the publishing division of Harvard Medical School, for $20 per year. Subscribe at http://www.health.harvard.edu/womens or by calling 877-649-9457 (toll-free).