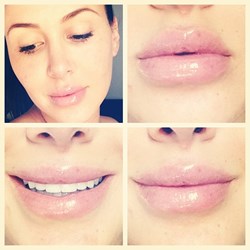 Luscious Lips™; Naturally gorgeous, full lips at your fingertips
Los Angeles, CA (PRWEB) September 03, 2013
Pregnancy should be an exciting experience. The list of precautions pregnant women are advised about include the obvious: don't smoke, don't drink or climb ladders. Avoiding possible toxins that can be absorbed into the skin is not so simple. Seemingly harmless beauty products like lipsticks, lip glosses, and topical lip plumpers could contain ingredients like artificial colors, parabens, even lead. Parabens are inexpensive preservatives found in many personal care products. These types of additives have been linked to miscarriage, birth defects, and altered hormones.
Because of weight gain, swelling, feeling tired, and other unexpected changes an expectant mother needs all the help she can get to look and feel her best. Prior to pregnancy, many women rely on popular go-to beauty remedies for an instant pick-me-up like topical lip plumpers or injectable dermal fillers like Juvederm or Restylane. Since no one's done a study on the effects of dermal fillers on pregnant women, most medical experts warn against their use while carrying a child. Topical lip plumpers often contain irritating ingredients like capsicum, derived from hot peppers, which create a stinging feeling, creating the illusion that something's happening.
When you Google lip plumpers, the results are pretty overwhelming. Sephora has 17 products alone. Most of these topical products are sticky or gooey in addition to the tingling or stinging. And with retail prices ranging from under $10 to $50, which product really does the trick? With a baby on the way, women don't have time to research the various active ingredients, or necessarily fork over fifty dollars for what's basically a lip gloss. There is a natural, non-invasive and affordable alternative. Pregnant women can kiss those sticky, gooey, tingly, topical and possibly toxic lip plumpers goodbye and say hello to Luscious Lips™.
Luscious Lips, created by Cynthia Rowland, a natural and anti-aging beauty expert. Luscious Lips is a red, hand-held device that plumps lips by bringing the body's own natural fluid into the soft tissue with a gentle vacuum action. Luscious Lips belongs in the beauty arsenal of anyone who wants safe, long lasting results over time. Results are almost instant when the instructions are followed, and within two weeks, the lips are much fuller. Used regularly, women can maintain plump lips with just a few pumps a week. In addition to that natural glow, expectant moms will enjoy the added benefit of fuller, sexy lips, giving them an added boost of confidence during pregnancy.
Pregnant women often complain of dry skin and lips. Luscious Lips comes with TLC, Therapeutic Lip Crème, which conditions the lips for better, faster results. TLC contains Sunflower Oil, Jojoba, Macadamia Nut Oil and Sepi-lift, a natural ingredient from France to increase and enhance the moisture hydration of the lips by 35 percent.
About Cynthia Rowland
Cynthia Rowland is a best selling author and widely recognized natural beauty and anti-aging expert.
As founder and president of Cynthia Rowland Beauty Systems, a company dedicated to providing highly effective anti-aging products to women and men, Rowland developed Facial Magic, a program with a series of isometric movements, "fitness for the face," that has sold over 1,000,000 DVDs world-wide. Her Luscious Lips lip pump is a natural lip plumper in the form of a red, hand-held device that employs the use of a vacuum to naturally create the fuller lips. Rowland and her Facial Magic and Luscious Lips are a proven hit with the health and beauty media and TV shows like The View, The Doctors, The Today Show and Rachel Ray.
A native of Enid, Oklahoma, Cynthia is the daughter of a cattle auctioneer. Her life was transformed, when at the age of eight, she read Vogue magazine for the first time
"I knew I belonged in the beauty world, not on the farm," she recalls.
Her extensive background in the beauty, cosmetics and fitness industry includes executive stints at Jack LaLanne's President's First Ladies Health Clubs, Boncilla Laboratories, Globe Modeling Agency and Physicians' Facial Contouring (PFC). As president of PFC in Denver, Colorado she spread the word about European facial exercises, which can prevent and dramatically correct droopy eyelids, sagging cheeks, and double chins. Regular appearances on the Home Shopping Channel and Canada's The Shopping Channel were the impetus for a successful infomercial.
This author, speaker and television personality is leading the crusade to help women and men look vibrantly young through natural, non-invasive techniques.
Cynthia is the host and founder of The Ageless Sisters blog talk radio show and author of the Amazon Best Seller, "The Magic of Facial Exercise". Her new book will publish in the fall of 2013.
###
CONTACT: Linda Arroz
818 635 8753 linda.arroz(at)makeovermedia(dot)com