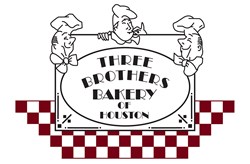 "Our family and our history create the bakery's identity," said Bobby Jucker. "We would not be what we are today without upholding my family's traditions and recipes."
Houston, TX (PRWEB) September 17, 2013
Three Brothers Bakery, Houston's fifth generation baked goods staple, has been named Modern Baking Magazine's 2013 Retail Bakery of the Year, recognizing it as one of the best bakeries in America. According to Penton Media, publishing body of Modern Baking, Three Brothers Bakery was chosen because it makes delicious treats while giving back to the community, retains its values and recipes, actively and creatively markets itself, shows resilience in situations beyond its control, and invests in its own business and its future.
Few stories are as inspiring as Three Brothers Bakery's, currently in its fifth generation of family bakers, it has not only retained its values and recipes but proves to be the epitome of keeping it all in the family. Three Brothers stays true to its roots in its commitment to creating all products it sells from scratch, using original family recipes dating back to Chrzanow, Poland circa 1825.
"Our family and our history create the bakery's identity," said Bobby Jucker, co-owner and fifth generation baker. "We would not be what we are today without upholding my family's traditions and recipes. We stay modern with the help of our incredible staff and the skills and ideas they bring to the table, plus learning from other great bakeries around the country."
Many small businesses in the Houston area have proven their resilience during hurricane season despite oftentimes suffering detrimental losses, and Three Brothers Bakery is no exception. The bakery was closed for nine months following Hurricane Ike, but exhibited its immense dedication to its staff, ensuring they were all paid the entire time the store was closed. The bakery turned this disaster into an opportunity and set to work designing and implementing an ambitious new growth plan, which was refined during ownership participation in the Goldman Sachs 10,000 Small Businesses program. This year, Houston will see the opening of a third location.
Three Brothers Bakery is passionate about giving back to the community,as its original owners were recipients of charity after their liberation from Nazi concentration camps. The bakery is involved in several different causes, including, but not limited to Holocaust Museum Houston, MD Anderson Children's Cancer Hospital, Easter Seals Camp Buckaroo, Hadassah and various homeless shelters. Janice Jucker, one of the bakery's owners, is a cancer survivor herself, and serves as a member of the Board of Directors for the Houston Affiliate of Susan G. Komen.
"The Jucker family's history in living through the Holocaust inspired a dedication to fighting hunger in the community through donations to organizations, as well as direct donations to area homeless people", said David Orgel, Content Director for Penton Food Group, the administering body for the award.
Three Brothers Bakery and the Jucker family are honored by this award recognizing them as one of the best bakeries in America and the characteristics it exemplifies. This particular Retail Bakery of the Year award is even more special as it is the last one to be awarded, for the publisher of the magazine ended its publication – a true loss for the baking community as it has been highly regarded by everyone in the baking world.
For more information regarding Three Brothers Bakery, the Retail Bakery of the Year Award or any of the bakery's sweet treats, please contact Allison Huseman at 713-225-0880 or allison(at)integratepr(dot)com.
About Three Brothers Bakery
The traditions of Three Brothers Bakery began in Chrzanow, Poland circa 1825, and were preserved despite the family's concentration camp imprisonment during the Holocaust. Their miraculous liberation, and subsequent move to Houston, brought Eastern European scratch baking traditions to 4036 S. Braeswood Blvd and 12393 Kingsride Lane, where the owners are now proud to call themselves "memory makers who just happen to be bakers." Perfecting the process for almost 200 years, each day the fifth generation bakers produce mostly dairy-free breads and pastries, cookies, a full line of specialty dessert cakes and pies, as well as custom birthday, special occasion, wedding and groom's cakes using only the highest quality ingredients.
The Three Brothers Bakery pecan pie was named "the best mail order pecan pie America has to offer" by Country Living magazine, and most recently, bakery owner, Bobby Jucker competed in the popular 'Food Network Challenge' and has been seen on Food Network's Outrageous Food. Three Brothers won "1st Place Cupcake 2012" from Retail Bakers of America as well as "Best Mail-Order Pies 2012" from Bon Apetit. The bakery also won Modern Baking's "2013 Retail Bakery of the Year" and was part of The Knot's "2010-2013 Best of Weddings" picks. Three Brothers Bakery is a certified Woman-Owned Business through the Women's Business Enterprise National Council, and a State of Texas Historically Underutilized Business.
Follow Three Brothers Bakery on Facebook and Twitter for Houston area news, information and events.