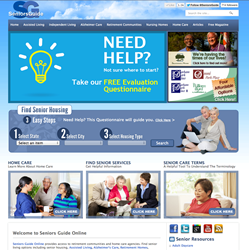 Social Media has become a resource as those looking for care for themselves or a parent are asking questions and looking for answers
Richmond, VA (PRWEB) September 06, 2013
The number of Seniors and Baby Boomers engaging in social media has continued its increase for the fourth year in a row according to a study by Pew Internet, and as also seen by Seniors Guide and http://www.SeniorsGuideOnline.com.
The Pew Study detailing Social Media use of Online Adults was published in August 2013 as part of Pew's on-going studies of technology and social networking.
Seniors Guide, a comprehensive resource guide for older adults looking for retirement communities, assisted living, home health care, and services has been active on Facebook since 2010 and has also seen growth over the last few years.
"Before the 2013 study results were reported, we had predicted Pew would show a rise in the number of older adults using sites like Facebook, Twitter, and especially Pinterest," says Katharine Ross, Vice President of Sales and Marketing for Seniors Guide Magazine and SeniorsGuideOnline.com.
Seniors Guide's Pinterest page features a collection of pinned retirement communities including assisted living and nursing homes in Virginia, North Carolina, Ohio and Indiana. Popular pins include articles on aging, information on Alzheimer's, and recipes for diabetics and a healthy diet for older adults.
Senior Citizens using social networking sites have shown a steady growth in the last four years. In 2009, Pew Internet found that 13% of adults ages 65 and older were using social networking sites. As of August 2013, that number has more than tripled to 43%.
The number of social media users get higher as the age group goes to the 50-64 demographic. "Social Media has become a resource as those looking for care for themselves or a parent are asking questions and looking for answers", says Ross.
Seniors Guide, a Richmond, Va.-based company, publishes Seniors Guide magazines throughout Cincinnati, Ohio; Dayton, Ohio; Indianapolis, Indiana; Raleigh-Durham, North Carolina; Richmond, Virginia; and Roanoke-Lynchburg, Virginia and features a correlating website of SeniorsGuideOnline.com. Seniors Guide's mission is to help seniors and their families find the information they need on options available in senior housing, senior care, assisted living, independent senior living, retirement communities and other retirement living needs. Seniors Guide also has resources at http://www.HomeCareChoice.com for Cincinnati, Ohio; Dayton, Ohio; Raleigh-Durham, North Carolina; and Richmond, VA. Ross Publishing, Seniors Guide's parent company, began in 1991 and has been publishing helpful, free publications and websites ever since.