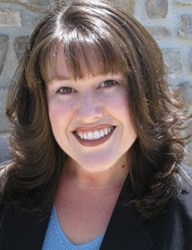 It is exciting right now to see the market turn around with home prices increasing and interest rates still low, it's a great time to sell or buy real estate."
San Diego, CA (PRWEB) September 11, 2013
Real Living Lifestyles has recently announced their top producing agents for the first half of 2013. Lisa Herndon, working out of the North County Inland office of Real Living, has been awarded the number one top individual agent production award both in number of homes sold and gross commission. Lisa has sold more homes in the first half of 2013 than any other agent in the company. Lisa Herndon started her real estate career during the real estate market downturn, in 2010, and over the next few years rolled up her sleeves and worked hard for her buyers and sellers. Lisa made the decision to leave her national corporate business development and support job, which included some traveling, to be local and a bigger part of her children's lives. In her corporate position she was honored with awards for performance and realized her skill set was a perfect fit for a career in real estate.
Steve Rodgers, President and CEO of Real Living Lifestyles, states: "It was obvious from our first interview that Lisa was going to be one of our company's top performers. I am thrilled that Lisa has excelled beyond our expectations and faster than we had imagined. I believe the reason for her success is that she applies her years of sales and negotiating experience to work for her real estate clients. She is a great listener and her enthusiasm is contagious."
Lisa specializes in the North County Inland area where she resides with her family and is very involved in the community. In addition, Lisa serves on the PTA for her children's school. When asked why she feels she was able to excel in a downward trending market, "I started in 2010 because I knew that if I could make it in the depressed real estate market, as it improves I can only do better. It is exciting right now to see the market turn around with home prices increasing and interest rates still low, it's a great time to sell or buy real estate."
Lisa Herndon can be reached at Real Living Lifestyles in Rancho Bernardo at 760-579-1183.
Real Living Real Estate is a network brand of HSF Affiliates LLC, which is majority owned by HomeServices of America, Inc.™, a Berkshire Hathaway affiliate.