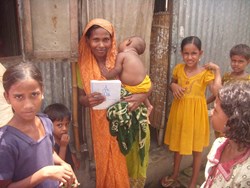 They're not asking for a handout, they're just looking for opportunity.
(PRWEB) September 10, 2013
Going back to school can be costly for some but for many children access to an education isn't even an option. The public school system in Bangladesh does not exist in slum areas, which can make up nearly 60 per cent of the population. Getting a job outside of the slum requires a basic education, making it impossible for most of the people living there. And so the vicious circle begins.
Earlier this year, Santevia Water Systems opened a school in a slum in Khulna, Bangladesh – a slum with 235 families, with an average family size of six. Within just a few months, women and children were learning to read, write and draw. These mothers have taken their knowledge and continue to help educate the other families in the community, so they can improve their lives.
"The dedication of these women to educate themselves and others is truly inspiring. They're not asking for a handout, they're just looking for opportunity", said Santevia CEO, Yvonne Anderson.
This successful project has inspired Santevia to open a second school in the slum area. Using social media to increase awareness about the plight of slum life, $1* will be donated for each tweet or retweet that includes the tag: #SanteviaBTS. Just a few seconds of "Twitter time" will help build a future for hundreds of impoverished people.
For the month of September, @Santevia will tweet facts about life in Bangledeshi slums, share photos from its newly built school and ask the community to retweet.
About Santevia
Santevia Water Systems Inc., located in Delta, B.C. Canada, manufactures and distributes water filtration and mineralization products creating alkaline water in convenient, eco-friendly and cost-effective ways. Santevia revitalizes tap water by adding essential minerals creating alkaline, pH balanced water that helps the body combat disease and stay healthy. Santevia donates 10% of all profits to the Santevia Gives Back program which supports projects providing food, shelter, education and clean drinking water to those less fortunate.
*Up to a maximum of $10,000.
Media contact:
Lindsay Gaudette
Marketing Manager, Santevia Water Systems Inc.
604-952-3706
lindsay(at)santevia(dot)com