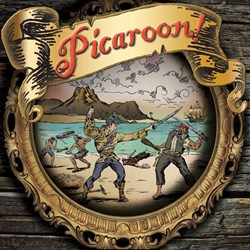 We have all been there, forced to buy stuff we don't want to raise money.
San Diego, CA (PRWEB) September 19, 2013
"Fundraising stinks!" Were the words muttered by Jim Warner, Executive Director at Big Eye Enterprises to his team, after another frustrating day of buying over priced, unhealthy, unwanted merchandise to help raise money for his children's school. "There has to be a better way to do this!"
Picaroon is the "next" board game from Big Eye Enterprises that is being released after their smash hit "Apples to Apples" which has sold more than 15 million copies worldwide. Picaroon is a pirate themed board game that can be played by people of all ages. Just like "Apples to Apples", it emphasizes chaotic randomness and allows players of all ages to enjoy an amazing game-playing experience.
Big Eye Enterprises has decided to launch their new game in a very special way. They are going to give schools, clubs, and community based organizations all over the country the ability to use Picaroon to raise money for their most important causes.
"We have all been there, forced to buy stuff we don't want to raise money. We hope to change this process and offer people a better solution to accomplish their fundraising goals," said Jim.
Members of organizations only need to promote the game through their favorite social media platforms (Facebook, Twitter, LinkedIn, Google+, Pintrest, etc.). All sales of the game will be made by connecting people to the Picaroon website.
"There is no need to go door to door, store or deliver a product or spend a significant amount of time marketing this game. The game is so much fun, and the opportunity so uncommon, people are going to exceed their fundraising goals with a limited amount of effort. "Organizations I have spoken with are ecstatic and can't wait to get started!" Jim said with a smile.
Picaroon will be available through a pledge drive, and partnerships with community based organizations, and will NOT be available in retail stores. Based on the amount pledged, people have the ability to get their names inscribed on the outside of the game box, receive a "Limited Edition" copy of the game, and potentially meet and play "Picaroon" with the Big Eye Enterprises team. Those familiar with a crowd funding approach, i.e. Kickstarter, will see similarities in the Picaroon pledge drive process.
Big Eye Enterprises is currently interviewing community based organizations who would like to participate in the pledge drive, which begins November 2013.
For more information about being part of this awesome venture or to interview Jim Warner or any of the members of the Big Eye Enterprises team, please contact:
Jim Warner
Big Eye Enterprises, LLC
jwarner(at)picaroonboardgame(dot)com
(619) 301-6694 ext 1