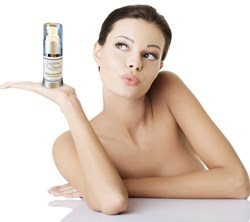 Collagen and Hyaluronic Acid are key, says Kathy Heshelow, founder of Sublime Beauty.
St. Petersburg, FL (PRWEB) September 03, 2013
How do men and women prevent premature wrinkles or reduce wrinkles that they already have, no matter what genetic cards they were dealt?
Two key ingredients are Collagen and Hyaluronic Acid, both naturally occuring in the skin, that work together to hydrate, plump and hold the underlying structure of skin together. Hyaluronic Acid and Collagen both diminish each year, progressively so as we age, and it is necessary to boost collagen levels and replenish Hyaluronic Acid to help skin quality.
"Many of our products at Sublime Beauty® are about boosting collagen levels, deeply moisturizing and supporting skin," says Kathy Heshelow, founder. Our new Hyaluronic Serum is a great help to skin and collagen synthesis."
Another key ingredient for youthful skin is peptides like Matrixyl. "Several of our products include the peptide Matrixyl that is known to double collagen production, including our Collagen Peptide Serum and Face Whisperer® Night cream," says Heshelow.
Other ingredients considered high on the list for anti-wrinkles and anti-aging by dermatologists:

Using an SPF can prevent premature wrinkling and thwart new ones, and using a Retinol can help slough away old skin and reveal newer skin, encouraging collagen synthesis. Retinol can reduce age spots and help repair damaged skin, too. Sublime Beauty® offers both.
Skin, which is our largest organ and most apparent to the exterior, needs loving care, says Heshelow. Moisturizing and hydrating are important for aging skin, and because we naturally lose collagen levels, boosting collagen production is important for good skin. Heshelow says not to underestimate the importance of plenty of water, good diet and exercise, which will show through in the skin.
And Skin Brushing for the body can help the body to glow and add to better circulation and lymphatic function.