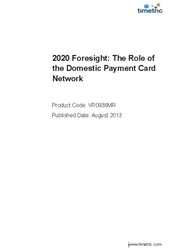 Rockville, MD (PRWEB) September 03, 2013
2020 Foresight: The Role of the Domestic Payment Card Network
Domestic payment card networks have existed for a long time, yet the global landscape of the card payment channel continues to be dominated by international payment card networks. Among international networks, Visa and MasterCard enjoy the majority of the global market share, enabling them to control pricing in their favor, leading to high transaction and settlement costs for the overall card payment channel.
This is in contrast to emerging markets where governments are making efforts to shift their economies from cash to cashless. Owing to this, the idea of government backed domestic networks has started to gain momentum in these markets.
The success of China's UnionPay and India's RuPay are expected to fuel the trend. The emergence of government-backed networks is expected to play a crucial role in the redistribution of market share; they are predicted to lower the cost of transactions and help in the growth of card services to a larger market through increased competition.
While companies such as UnionPay, JCB and Tarjeta Naranja focus on credit card networks, the majority of domestic networks focus on debit card networks. Domestic debit card networks in countries such as Canada, Australia, Singapore, China and Germany have emerged as market leaders due to their current regulatory frameworks and preference for domestic schemes.
The analysis indicates that growth in card and payments channels in developed economies will be relatively slower than emerging economies over the next five years. This trend is likely to emerge due to high saturation levels in developed markets in comparison to relatively low levels of card penetration in emerging economies. New domestic networks are therefore more likely to occur in emerging markets.
International networks have lagged behind in exploiting business opportunities in certain market segments such as micropayments, social benefit programs, and the reliance of the rural population or small financial institutions. These relatively unexplored markets are becoming the primary focus of domestic networks to expand their businesses and increase revenues. Over the next five years, domestic networks are expected to concentrate on small enterprises that do not currently accept card payments. This move will be aided by the availability of technologies such as mobile point of sale (MPOS) solutions, which will make acceptance of card payments feasible for small merchants.
To order this report:
2020 Foresight: The Role of the Domestic Payment Card Network
Contact: Shauna
800.298.5699
Customerservice(at)marketresearch(dot)com
About Timetric
Timetric is an independent economic and business research firm providing critical intelligence on emerging economies and key global industries. We provide detailed economic and sector intelligence, business insights and authoritative, independent commentary.
Timetric's flagship products are economic and industry intelligence centers, which are premium decision tools that provide access to comprehensive research and expert analysis. They provide invaluable decision support presented in easily digestible formats and grounded in deep research.
One of the key components of each of these intelligence centers are the hundreds of high quality research reports across countries, industries and companies, which Timetric produces each year.
These reports draw on in-depth primary and secondary research, proprietary data and high quality modelling and analysis to give you insight into global market and economic dynamics.
About MarketResearch.com
MarketResearch.com is the leading provider of global market intelligence products and services. With research reports from more than 720 top consulting and advisory firms, MarketResearch.com offers instant online access to the world's most extensive database of expert insights on global industries, companies, products, and trends. Moreover, MarketResearch.com's Research Specialists have in-depth knowledge of the publishers and the various types of reports in their respective industries and are ready to provide research assistance. For more information, call Cindy Frei at 240.747.3014 or visit http://www.marketresearch.com.
Follow us on Facebook. http://www.facebook.com/marketresearchdotcom
Follow us on Twitter. http://www.twitter.com/marketresearch_
2020 Foresight: The Role of the Domestic Payment Card Network – Table of Contents:
1 Executive Summary
2 Global Landscape of Card Payments Channel
2.1 Market Dynamics of Card Payments
2.1.1 Card transaction framework
2.1.2 Global snapshot of domestic networks
2.2 Snapshot of Card Payments Channel and Competitive Landscape
2.2.1 Developed economies
2.2.2 Emerging economies
3 Market Potential and Key Challenges for Domestic Networks
3.1 Key Target Markets
3.1.1 Small scale businesses
3.1.2 Government payments
3.1.3 Traditional markets
3.2 Analysis of Key Drivers
3.2.1 Operational drivers
3.2.2 Regulatory drivers
3.2.3 Infrastructure drivers
3.3 Key Challenges for Domestic Networks
3.3.1 Operational challenges
3.3.2 Technical and regulatory challenges
4 Key Success Factors for Payment Card Networks
4.1 Best Practices for Domestic Networks
4.1.1 Partnerships and collaborations to offer card services in international markets
4.1.2 Focus on small financial institutions to increase market share
4.1.3 Adoption of innovative technology to lower fraud losses and improve net income
4.1.4 Tapping micropayments for growth
4.1.5 Using promotions and cross-selling opportunities to generate higher revenues
4.2 Strategies Adopted by Domestic Networks
4.2.1 Expansion in international markets through partnerships and product launches
4.2.2 RuPay's low cost strategy for extension of card services in the Indian economy
4.2.3 eftpos' focus on micropayments and marketing campaigns to protect market share in Australia
4.2.4 ACCEL/Exchange's focus on low cost advantage and cross-selling opportunities for expansion
4.2.5 Interac's adoption of innovative technology to counter fraud losses
4.3 Changing Strategies of International Networks
4.3.1 Cost and product strategies
4.3.2 Expansion strategies
5 Appendix
5.1 Methodology
5.2 Background
5.3 Contact Timetric
5.4 About Timetric
5.5 Disclaimer
List of Tables
Table 1: Participant Incentives in a Card Transaction Framework
Table 2: Card Market Size in Developed Economies (Million), 2008–2017
Table 3: Card Transaction Value in Developed Economies (US$ Billion), 2008–2017
Table 4: Card Transaction Volume in Developed Economies (Billion), 2008–2017
Table 5: Card Market Size in Emerging Economies (Million), 2008–2017
Table 6: Card Transaction Value in Emerging Economies (US$ Billion), 2008–2017
Table 7: Card Transaction Volume in Emerging Economies (Billion), 2008–2017
Table 8: Access to Banking Facilities in India
Table 9: POS Terminals in Developed Economies (Thousand), 2008–2017
Table 10: POS Terminals in Emerging Economies (Thousand), 2008–2017
Table 11: Number of MPOS Terminals and Penetration, 2011–2017
Table 12: Examples of Financial Institutions Switching to ACCEL/Exchange Network
List of Figures
Figure 1: Two-Party Payment Model
Figure 2: Three-Party Payment Model
Figure 3: Four-Party Payment Model
Figure 4: Domestic Payment Card Networks
Figure 5: Card Market Size in Developed Economies (Million), 2008–2017
Figure 6: Card Transaction Value in Developed Economies (US$ Billion), 2008–2017
Figure 7: Card Transaction Volume in Developed Economies (Billion), 2008–2017
Figure 8: US Debit Cards – Category Share by Scheme (%), 2012
Figure 9: Germany Debit Cards – Category Share by Scheme (%), 2012
Figure 10: Australia Debit Cards – Category Share by Scheme (%), 2012
Figure 11: US Credit Cards – Category Share by Scheme (%), 2012
Figure 12: Canada Credit Cards – Category Share by Scheme (%), 2012
Figure 13: Germany Credit Cards – Category Share by Scheme (%), 2012
Figure 14: Australia Credit Cards – Category Share by Scheme (%), 2012
Figure 15: Japan Credit Cards – Category Share by Scheme (%), 2012
Figure 16: Card Market Size in Emerging Economies (Million), 2008–2017
Figure 17: Card Transaction Value in Emerging Economies (US$ Billion), 2008–2017
Figure 18: Card Transaction Volume in Emerging Economies (Billion), 2008–2017
Figure 19: China Debit Cards – Category Share by Scheme (%), 2012
Figure 20: India Debit Cards – Category Share by Scheme (%), 2012
Figure 21: Malaysia Debit Cards – Category Share by Scheme (%), 2012
Figure 22: Argentina Debit Cards – Category Share by Scheme (%), 2012
Figure 23: Russia Debit Cards – Category Share by Scheme (%), 2012
Figure 24: China Credit Cards – Category Share by Scheme (%), 2012
Figure 25: India Credit Cards – Category Share by Scheme (%), 2012
Figure 26: Malaysia Credit Cards – Category Share by Scheme (%), 2012
Figure 27: Argentina Credit Cards – Category Share by Scheme (%), 2012
Figure 28: Russia Credit Cards – Category Share by Scheme (%), 2012
Figure 29: Dynamics of Target Markets
Figure 30: Dynamics of Key Drivers
Figure 31: Average Exchange Rate Movement Per US$ (%), 2008–2012
Figure 32: POS Terminals in Developed Economies (Thousand), 2008–2017
Figure 33: POS Terminals in Emerging Economies (Thousand), 2008–2017
Figure 34: Global MPOS Terminals (Units in Millions), 2011-2017
Figure 35: Global MPOS Terminal Penetration (%), 2011-2017
Figure 36: Key Success Strategies
Figure 37: UnionPay's Emergence in International Market
Figure 38: Roadmap for RuPay
Figure 39: RuPay's Growth Strategies
Figure 40: Card Transactions in Australia on Different Networks, 2012
Figure 41: eftpos Promotion Campaign, 'I am King'
Figure 42: eftpos Growth Strategies
Figure 43: ACCEL/Exchange Growth Strategies
Figure 44: Fraud Prevention by Interac