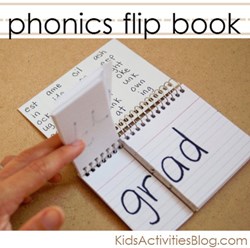 Kids will learn to study independently.
Dallas, TX (PRWEB) September 03, 2013
Fall time is the time to get kids back into a reading routine. Seasoned Moms are sharing the easiest ways to learn spelling words and to teach word families on Kids Activities Blog.
A fun, independent, and interactive spelling practice offers SpellingCity.com. The web or app version allows parents to customize the spelling lists and enables the kids to independently practice spelling words, to study vocabulary for the upcoming tests, allows to study with flash cards, and guides kids through a routine to put words in alphabetical order.
Another great way to teach word families to emerging readers is by making a word family flip chart. The chart is easy to make with a set of 3x5 index cards. Simply cut the cards according to the featured template and write the blends and endings listed on Kids Activities Blog.
The flip chart is great for traveling and allows kids to gain confidence while sounding out words. It also allows kids to understand how to break down words.
For detailed instructions and to get additional reading tips, check out Kids Activities Blog this week. Come get inspired to help kids be a bit more independent when studying while having a blast.
About Kids Activities Blog
Kids Activities Blog is a website created by two moms (who collectively have 9 children), Rachel Miller and Holly Homer from June Cleaver Nirvana. It is their daily goal to inspire parents and teachers to play with kids. This interactive website publishes simple things to do with kids twice a day. Kids Activities Blog is a great tool for moms and teachers to find kid-friendly activities that create memories and sneak learning into the fun.