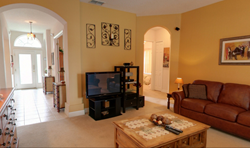 "Renting a vacation home for the first time was a breeze, just as easy as my last hotel except I slept like as was at home in my own bed"-Keith Clark
Orlando, Florida (PRWEB) September 18, 2013
The recent Governor's Conference on Tourism, held in Orlando, Florida ended with a challenge issued to Orlando's travel industry: Bring 100-million tourists to the Orlando area next year. Orlando Vacation Homes will play a vital role in attracting this many tourists through the year.
Increase Marketing Funds
Marketing for year-round vacationers is feasible with the revenue from increased tourism over the past two-years and the earnings from other co-op businesses. Now, with the challenge, year-round marketing becomes necessary.
Convenient vacation rental homes
The shift from traditional hotel lodging to vacation home rentals in Orlando continues to gain momentum as returning tourists introduce friends and family to the luxury and convenience of home renting. The challenge to bring 100-million tourists to Orlando falls equally on hotels and Orlando vacation homes marketers.
A home away from home
Vacation rental homes have become the most requested type of lodging in the Orlando area. Homes accommodate more people and tourists enjoy returning to a home after spending the day at Disney World or one of the other nearby theme parks.
Disney rental homes
Tourists traveling to Orlando's most popular theme park, Disney World, look for Disney rental homes near their destination. There are luxury rental homes within 5 to 15 miles of the theme park. Many sit in gated communities and have private swimming pools, hot tubs and access to community events.
Vacation rental homes offer more
A Plus Vacation Homes offer more amenities and space than hotel rooms. A family of 4 in a hotel room leaves little room to stretch out in and one bathroom means waiting. Orlando vacation homes come with 2 to 7 bedrooms, multiple bathrooms and room enough for everyone to relax. Upon request, guests have internet service, cable or satellite television and game rooms.
Save money by renting Orlando vacation homes
Eating in restaurants every day of a vacation adds up to a major expense. The food expense drops when families have a full kitchen to use during their vacation. Kitchens have refrigerators, microwaves and ovens in which to create meals. The homes come with flatware, cookware and dishwashers for cleaning up.Vacation rental homes also come stocked with linens for the bathrooms, kitchen and bedrooms.
No lost reservations
Tourists traveling in groups do not worry about a lost hotel room reservation. A lost reservation affects everyone in the group when a hotel room must hold one more person than planned. Orlando vacation homes always have every room available and clean.
Year-around marketing to bring 100-million tourists to Orlando, Florida challenges marketers and property managers. They have the resources to meet the challenge, now they need the tourists.