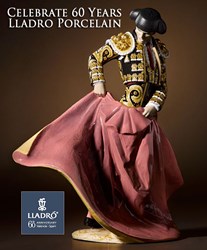 Richmond, Virginia (PRWEB) September 17, 2013
Biggs Ltd is honored to host the Lladro 60th Anniversary Signing Event with Rosa Lladro on Friday, October 18th from 7-9 pm. Collectors around the globe can take advantage of this unique opportunity to own a hand-autographed Lladro treasure. Reserve a Lladro porcelain figurine online or by phone at 1-800-362-0677.
Collectors unable to attend will have their signed pieces shipped to them right after the signing event. Lladro aficionados do not need to attend the event to have an order autographed by Rosa.
Attendees of the signing event will have the opportunity to meet and converse with Rosa Lladro. In the background will be the fine sounds of Spain woven by an authentic Flamenco guitarist. Light refreshments will be served. Share and enjoy the Spanish experience as the world celebrates Lladro's 60th Anniversary.
Every purchase, whether at the event or online at BiggsLtd.com will grant a chance to win the limited edition figurine, Lladro Beauty in Bloom, valued at $2,400. With each purchase, attendees will also receive a gift bag filled with over $200 worth of Lladro gifts.
Layaway reservations are available for Christmas. Have a Lladro porcelain sculpture signed by Rosa and give it as the perfect gift for any Lladro collector.
The Lladro 60th Anniversary Signing Event with Rosa Lladro will be held at the BiggsLtd.com Short Pump Town Center location.
11740 West Broad Str, Suit 105
Richmond, VA 23233
1-800-362-0677
You can reserve a Lladro sculpture to be signed online at http://www.BiggsLtd.com or by phone at 1-800-362-0677.