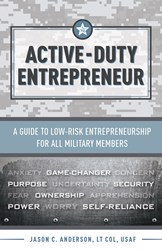 Military members and their spouses can become America's next great wave of innovative small business owners.
Springfield, VA (PRWEB) September 04, 2013
A truly innovative new book entitled "Active-Duty Entrepreneur" officially goes on sale today on Amazon.com and on the Active-Duty Entrepreneur website.
Based on US Air Force Lieutenant Colonel Jason Anderson's personal experiences, "Active-Duty Entrepreneur" teaches military service members and spouses how to conceptualize, develop, and launch a small business while still on active duty, years ahead of separation or retirement. "The key is the military ecosystem," says Lt Col Anderson. "It provides a stable job, predictable pay, healthcare, and career timeline creating the ideal environment to become a small-business entrepreneur for almost zero risk."
In this ground-breaking new book, Lt Col Anderson explains how the active-duty entrepreneur could help lower the 9/11 Veteran's unemployment rate, create a more stable transition for separating or retiring military members, create more options for wounded service members, breathe life back into US small business growth, and create jobs. "The best part," Anderson says, "is that the active-duty entrepreneur model comes at zero cost to the US taxpayer." Following the model, they can learn more about business, become accustomed to the private sector, and can incrementally invest their own money into their business—well ahead of retirement or separation from military service.
Lt Col Anderson says the best part about this concept is everyone wins. The military wins by infusing a more business-savvy workforce into ranks. The taxpayer wins by having more business experienced military men and women making better budget decisions throughout the ranks. The service member and their family win because they can create their own transition from the military to the private sector and develop very marketable skills along the way. Finally, and most importantly, the US economy wins. Anderson says, "These skilled and capable military men and women are some of the best trained, team-orientated, and dedicated decision makers in the world—they can become America's next great wave of innovative small business owners." His book provides them a simple roadmap to make that a reality.
Our country has challenges that require big thinkers—Anderson is one of them. Paperback and e-book editions are now available on Amazon.com or at the Active-Duty Entrepreneur website. There is also a blog at the website where users are encouraged to join the conversation and learn more about the book's concepts.
About Active-Duty Entrepreneur LLC
Launched in June 2013, Lt Col Jason C. Anderson created Active-Duty Entrepreneur to educate military members and their spouses on how to create a small business before military separation or retirement. Military members and spouses can learn at their own pace from the book or blog and interact with the community found on the Active-Duty Entrepreneur website.