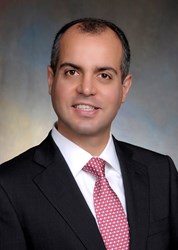 Berkeley Heights, N.J. (PRWEB) September 11, 2013
Hamed Bazargan Lari, M.D., ophthalmologist, has joined Summit Medical Group, New Jersey's largest private multispecialty medical group. Dr. Lari joins his colleagues Eric B. Gurwin, M.D., Linda Hsueh, M.D., and Monica B. Khalil, M.D., at 1 Diamond Hill Road in Berkeley Heights, N.J. In addition to his position at Summit Medical Group, Dr. Lari is an instructor in clinical ophthalmology at Columbia University Medical Center Edward S. Harkness Eye Institute in New York City.
Dr. Lari's research interests are primarily devoted to surgical and medical management of glaucoma and complex cataract surgery. He is the coauthor of original articles and abstracts on glaucoma, cataract surgery, and drug treatments for the eyes (ocular pharmacology), which are published in peer-reviewed scientific journals such as Journal of Glaucoma, Journal of Cataract and Refractive Surgery, and Archives of Ophthalmology. He continues to present his clinical research at national and international scientific conferences.
Dr. Lari earned his bachelor of science in biomedical engineering summa cum laude at Rutgers University, New Brunswick, N.J. and he earned his doctor of medicine at Mount Sinai School of Medicine, New York City. After graduating, he completed his internship in surgery at Flushing Hospital Medical Center, Flushing, N.Y. He completed his residency in ophthalmology at the University of Medicine and Dentistry of New Jersey (UMDNJ) - New Jersey Medical School Institute of Ophthalmology and Visual Science, Newark, N.J. While he was at UMDNJ, Dr. Lari was designated Chief Resident. He completed his fellowship in glaucoma at Columbia University Medical Center / New York Presbyterian Harkness Eye Institute, New York City.
Dr. Lari is the recipient of more than 20 honors and awards, including the UMDNJ Program Director Award and prestigious Lions Eye Research Foundation Annual Research Award. He is a member of the American Academy of Ophthalmology (AAO) and American Glaucoma Society (AGS).
ABOUT SUMMIT MEDICAL GROUP
Summit Medical Group (SMG) is the largest privately held multispecialty medical practice in New Jersey. SMG maintains a 42-acre healthcare campus in Berkeley Heights and 27 additional practice locations in Bayonne, Bridgewater, Berkeley Heights, Montclair, Morristown, Millburn, Short Hills, Springfield, New Providence, Verona, Warren, Westfield and West Orange. As an East Coast premier multispecialty group, SMG has provided exceptional primary and specialty care since 1929. For more, visit http://www.summitmedicalgroup.com.
###