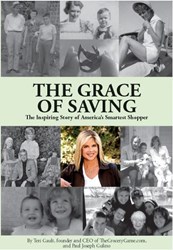 I've been given tons of grace, and now my story exists to pass that grace on to whoever wants it.
Los Angeles, CA (PRWEB) September 10, 2013
As founder and CEO of TheGroceryGame.com, Teri Gault has helped hundreds of thousands of families save big on grocery shopping. She now releases her own heart-warming story about her upbringing and rise from an everyday mom in time of need, to one of the country's leading savings experts.
Teri reflects on the writing of the work, "When we wrote this book, I had to accept that I may be judged or criticized, but I took the plunge, because I believe there are a lot of people like me, who can relate to my experiences. Who need to know that life goes on, and life is sweet, no matter how much you have or don't have. I just think a lot of folks need hope these days, and maybe some brass tacks examples of how to make it through. I didn't always do it right, but at least between me and God, that's OK. Yeah, I've been given tons of grace, and now my story exists to pass that grace on to whoever wants it."
The Grace of Saving: The Inspiring Story of America's Smartest Shopper, co-authored by Paul Joseph Gulino, follows the amazing story of Teri Gault, from a little girl in Oklahoma to the bright lights of Hollywood. During a time of tough financial need, Gault developed a system for drastically reducing grocery bills by rethinking the very notion of the term "saving." She realized huge grocery savings and subsequently developed her website, TheGroceryGame.com, which has helped hundreds of thousands of people. Woven throughout The Grace of Saving, Teri's expert savings tips, and pearls of wisdom are organic to her story and her lifestyle of savings.
Gault's previous book, Shop Smart, Save More: Learn The Grocery Game and Save Hundreds of Dollars a Month (with Sheryl Berk, HarperCollins) provides step-by-step instructions on how to slash grocery bills from supermarket to table. Next, Gault will release "31 Days to Save," a fun, calendar approach to saving money on groceries.
About Teri Gault:
Teri Gault is the founder and CEO of The Grocery Game, started in 2000, which grew out of her hobby of collecting coupons and matching them to grocery store sales. She then shared her money saving ideas with family and friends who were impressed by her attention to detail and her ability to predict sales trends, leading her to eventually create TheGroceryGame.com.
The Grocery Game publishes Teri's List, a weekly online compilation of the lowest-priced products at local supermarkets and drugstores, to help shoppers save. The List matches manufacturers' coupons, online coupons and advertised and unadvertised sales as well as sales trends. The Grocery Game does all the hard work and research, and presents it in a straightforward format. Teri's List is available for some of the largest supermarkets and drugstore chains from coast to coast.
The Grocery Game is the largest source on the web for grocery coupons and the site provides access to hundreds of printable coupons and manufacturers' coupons that can be sent to store loyalty cards. It also lists unadvertised sales at grocery and drug stores in all 50 states.