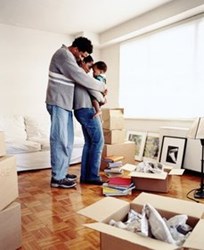 We strive to make the process of moving as effortless as possible," said a spokesman for www.MovingKit.com.
(PRWEB) September 01, 2013
Whether moving out of a one bedroom apartment or transporting all possessions from a 4 bedroom house across the country, moving is never easy. Now, thanks to MovingKit.com's new website design, figuring out the tricky details, like deciphering the number of moving boxes, bubble wrap, and rolls of tape that are needed, can be calculated right from home with ease.
The new layout of the site makes navigating simple and helps plan any move through basic options, such as how many rooms need to be packed. Based upon the criteria provided, the site then does all of the work, figuring out the box sizes and packing supplies that will be needed.
After placing an order, the moving supplies are delivered right to the customer's front door. Additionally, in an effort to allow customers to follow their order, MovingKit.com has created a user friendly tracking tool to help keep tabs on the shipment.
The easy to use layout, allows visitors to quickly find just what they are looking for. The layout breaks down moving options, allowing customers to order moving supplies based on the number of rooms they are planning to pack up. It is always a good idea to order supplies for one more room than is planned to be packed, just to make sure there are enough boxes and shipping supplies for the move.
MovingKit.com has also introduced a new quote feature, allowing customers to receive free moving quotes. By taking advantage of this extra perk, it's possible to schedule an entire move on a laptop from the comfort of a bed!
"We strive to make the process of moving as effortless as possible," said a spokesman for http://www.MovingKit.com. "Today's demographic is constantly on the go, making moving a part of many people's lives. We want our customers to feel a sense of relief when they visit our website, because they know that our service will take a bit of the stress out of their moving process."