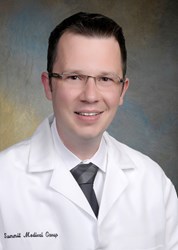 Berkeley Heights, NJ (PRWEB) September 17, 2013
Orthopedic and hand surgeon, Genghis E. Niver, M.D., has joined Summit Medical Group, New Jersey's largest private multispecialty medical group. A native of Westfield, NJ, Dr. Niver is returning to and practicing in the New Jersey / New York area. He practices at 95 Madison Avenue, Morristown, NJ, specializing in surgery of the hand, wrist, forearm, elbow, and shoulder.
Dr. Niver earned his bachelor of arts in molecular and cell biology with honors and distinction at the University of California, Berkeley, California. After graduating, he earned his doctor of medicine at the University of Medicine and Dentistry of New Jersey - New Jersey Medical School, Newark, NJ. He completed his residency in orthopedic surgery at the University of Connecticut, Farmington, Connecticut, and he completed his fellowship in hand and upper extremity surgery at the Rothman Institute of Orthopaedics, Philadelphia.
Dr. Niver is a candidate member of the American Society for Surgery of the Hand and American Association of Hand Surgery. He is a member of the American Association of Orthopaedic Surgeons. Dr. Niver has coauthored articles and abstracts on a wide range of topics in orthopedics published in peer-reviewed scientific journals such as Journal of Hand Surgery, American Journal of Sports Medicine, and Orthopaedic Clinics of North America. He has delivered local, regional, and national invited presentations in his field.
Dr. Niver is the recipient of more than seven honors and awards, including the Cavazos Residency Fellowship Award for his outstanding performance as a resident, mentor, and role model.
About Summit Medical Group
Summit Medical Group (SMG) is the largest privately held multispecialty medical practice in New Jersey. SMG maintains a 42-acre healthcare campus in Berkeley Heights and 27 additional practice locations in Bayonne, Bridgewater, Berkeley Heights, Montclair, Morristown, Millburn, Short Hills, Springfield, New Providence, Verona, Warren, Westfield and West Orange. As an East Coast premier multispecialty group, SMG has provided exceptional primary and specialty care since 1929. For more, visit http://www.summitmedicalgroup.com.