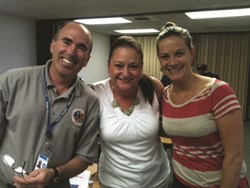 We learned a lot about mitigating for high levels of particulates, so we're ready should this happen again.
Seattle, WA (PRWEB) September 09, 2013
The wildfires that struck central Washington last September were severe both in terms of the damage they inflicted on the environment, and the prolonged duration of unhealthy air conditions.
But thanks to Local 17 members at the Chelan-Douglas Health District (CDHD), the harm to the community's health was greatly minimized, and the district is well prepared to meet the community's health needs during this year's wildfire season.
Typically, wildfire smoke lingers for only a few days at a time. What was unprecedented about these fires — which were sparked by a severe lightning storm in the Okanogan and Wenatchee National Forests — was that the smoke remained stagnant and at hazardous levels for nearly three weeks in the surrounding areas. "I don't know of any other community in Washington State that has experienced such high levels of particulates for such an extended period of time," said Brian Dickey, Environmental Health Specialist at CDHD.
Dickey worked with the community throughout the fires to measure indoor smoke particulate levels. In three weeks, he visited a total of 31 sites—from K-12 schools, Red Cross shelters, court houses and other government service buildings, where he determined the most hazardous air quality conditions, and helped implement solutions, like sealing doors and windows and making changes to HVAC systems, to keep the air at a healthy level.
"Most of the HVAC systems in newer schools and buildings will keep the particulates out. Some of the older buildings and, in particular, the portable classrooms being used at some schools, had very unhealthy indoor levels. But with the addition of a small HEPA filter - like the kind you can find at Costco – you can get down to zero particulates." CDHD provided several HEPA filters to organizations throughout the community.
The CDHD also worked with other fire response organizations to get accurate health and safety information out to the public, implemented clean air shelters, and fielded over 3000 phone calls during the event. During this time period the CDHD website received over 20,000 visits – an average month sees about 500 visits.
Nurse and Local 17 Chelan-Douglas Chapter President, Stephanie Snitily, was responsible for monitoring health care facilities to evaluate the number and scope of air quality related cases. Environmental Health Specialist, Hilary Knelleken was the liaison for the Red Cross clean air shelter. She transported and set-up portable HEPA filters at the shelter, and visited every day to test the air quality.
Another service that CDHD offered during the fires was providing N-95 masks to members of the community. The strategy with the masks was to reach people in high-risk groups, including those with respiratory issues and those who work outdoors, such as agricultural workers. Over 40,000 masks were distributed during the fires.
"We learned a lot about mitigating for high levels of particulates, so we're ready should this happen again," said Dickey.