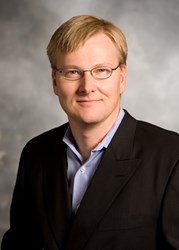 Jelastic has phenomenal technology, an advanced development team and an innovative product that is addressing real-world business challenges in the enterprise space.
PALO ALTO, California (PRWEB) September 04, 2013
Jelastic Inc., a leading provider of an advanced and scalable Platform-as-a-Service (PaaS) and winner of the prestigious Duke's Choice Award, today announced the appointment of John E. Derrick as the company's new Chief Executive Officer. As a renowned, proven business leader of private and public technology companies, Derrick will lead the company's worldwide vision, global operations, strategic channel alliances and market expansion of the industry's first Zero-Code-Change PaaS solution for private and public cloud environments. He will reside in the company's Silicon-Valley based headquarters in Palo Alto, California. Derrick joins company Founder and Chief Technologist Ruslan Synytsky, who was recently named as CTO, and was responsible for leading Jelastic from inception through the company's critical technology validation and development phase.
Derrick's technology career spans more than 20 years in the IT industry. Most recently, Derrick was a top advisor for a number of leading venture capitalists, corporate venture firms, and technology companies—even serving as interim CEO for a storage company in 2010. Over the last 12 years, Derrick has worked with a number of technology giants and leaders, including Intel, where he served as General Manager of the Acceleration Products Division, before joining MIPS Technologies in 2008 where he served as President and General Manager of the Processor Business Group before being named COO in 2009.
Prior to that, Derrick held executive positions at Chicory Systems (acquired) and Conformative Systems (acquired by Intel). These pioneers delivered Java, XML, SQL and non-SQL databases, security, and other key datacenter technologies to the market. Derrick started his career at IBM in the early 1990s as a server systems engineer, and quickly advanced to the position of micro-architect, leading teams on various projects—staying with IBM for nearly a decade.
Ruslan Synytsky, Jelastic Founder said, "Jelastic is already changing the game in the worldwide hosting industry. VPS and Dedicated Server businesses are being transformed to PaaS businesses. Our cloud server hosting partners are excited to be a part of the cloud evolution and are now able to offer modern, attractive and competitive Java and PHP cloud hosting services."
"As John joins us to drive Jelastic into the enterprise marketplace, I'm convinced our superior technologies and highly motivated team will create major advantages for the enterprise software business in the near future," concluded Synytsky.
"Jelastic is in such an exciting phase of the company's trajectory and its latest advancements are unparalleled in this space," said Derrick. "Jelastic has phenomenal technology, an advanced development team and an innovative product that is addressing real-world business challenges in the enterprise space. I truly look forward to leading the team and expanding Jelastic's global footprint as we team with organizations focused on scaling their cloud application deployments. I'm thrilled to be joining Jelastic during such a pivotal time in enterprise software and cloud computing, and look forward to continue collaborating with the enterprise leaders of tomorrow as we develop the next-generation infrastructures for cloud computing."
"We are delighted that John will steward Jelastic's future growth," said Chris Lyman, Jelastic Board Member and Founder of hosting.com, one of the world's first hosting companies. "Jelastic presents a tremendous opportunity and John has the requisite experience to lead our rapid expansion, both domestically and across the globe."
In support of Jelastic's recent growth and increased customer traction, additional early-stage funding has been provided by Maxfield Capital, a venture capital company focused on early stage and seed investments. Previous investors have included Runa Capital and Almaz Capital. The backing acquired from Maxfield Capital makes it possible for Jelastic to immediately accelerate the development of its Java and PHP hosting technologies and successful go-to-market strategy. Jelastic plans to use the additional capital to boost both R&D, sales operations and to support its ongoing global growth.
"Since Jelastic's inception, we have closely collaborated with Alexander Turkot, Founder and Managing Partner of Maxfield Capital," said Synytsky. "Alexander completely understands the business and technical aspects of Jelastic. This new investment from Maxfield Capital will enable us to rapidly expand our business across the globe. We have already assembled a highly skilled and experienced team. This will further enhance our company and enable us to accomplish successful points towards the enterprise direction of our business."
"Maxfield Capital was established with a primary focus on teaming with the most promising early-stage companies with strong technological advantages—and Jelastic is definitely one of those rare companies," said Turkot. "We believe that our participation will grant Jelastic the necessary financial and intellectual resources for additional worldwide expansion and global success."
Jelastic is a true global enterprise software innovator, currently partnering with 21 web hosting providers (agreements at varying stages from deployment, beta and commercial) who currently or will soon offer the Java and PHP hosting platform from more countries than any other cloud platform in the market. Today, Jelastic is the only zero-code-change PaaS on the market that automatically scales any Java or PHP application.
About Maxfield Capital
Maxfield Capital is a $100mln. venture capital company focused on early stage and seed investments in IT and Internet fields. Founded by Alexander Turkot, Oleg Kuzhikov and Alexander Lazarev, Maxfield Capital is run by a team of experienced professionals with deep roots in Silicon Valley, Israel and Russia. They partners with companies that have solid technology and operating background and venture capital experience. Maxfield Capital also supports bright seed stage companies via an in-house seed program.
About Jelastic
Jelastic, Inc., based in Palo Alto, Calif., offers a Platform-as-a-Service (PaaS) for developers, application designers and hosting service providers. Jelastic is the only PaaS offering designed specifically for hosting service providers to deploy and make available to their customers. Jelastic automatically scales Java and PHP applications and allocates server resources, delivering true next-generation Java and PHP cloud computing. Visit us for more information or create a free two-week trial at http://www.jelastic.com.