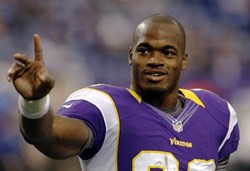 What I love about this list is that it will keep changing. Adrian Peterson is in the top five now, but in a few more years he may earn enough votes to hit number one.
Los Angeles, CA (PRWEB) September 03, 2013
Barry Sanders has been named the greatest running back in NFL history, ahead of Jim Brown and Walter Payton, according to a recent poll by Ranker.com. The popular rankings site reached this verdict after collecting the aggregated opinion of over 4,600 voters on the topic of "The Best Running Backs of All Time."
The top 10 is comprised of all retired players with the exception of Adrian Peterson. Despite his highly publicized criminal history, OJ Simpson made it to the number eight position on the list.
The Top 10 Greatest Running Backs Are:
1. Barry Sanders
2. Jim Brown
3. Walter Payton
4. Earl Campbell
5. Adrian Peterson
6. Eric Dickerson
7. Bo Jackson
8. O.J. Simpson
9. Marcus Allen
10. Gale Sayers
Football fanatic Brad Linehan finds the ever-changing aspect of the list amazing. Says Linehan, "What I love about this list is that it will keep changing. Adrian Peterson is in the top five now, but in a few more years he may earn enough votes to hit number one."
See the full list of The Best Running Backs of All Time, as well as 1000s of other opinion-based lists at Ranker.com
About Ranker
Ranker is a crowdsourced platform that consumers visit over 9 million times a month to view, rank, and vote on broad opinion-based questions ranging from the best soccer players to the greatest US presidents. With "The Best Running Backs of All Time" and other lists, Ranker hopes to provide the best possible answer to any question that can be answered in list form. These answers can inform consumers' decisions, influence business choices or stoke an old-fashioned debate. Ranker is backed by Draper Associates, Rincon Venture Partners, Siemer Ventures, Data Collective, Gil Elbaz, Tech Coast Angels and Pasadena Angels