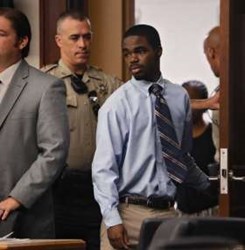 Atlanta, GA (PRWEB) September 13, 2013
Since opening statements were delivered on Monday, August 19, 2013, rolling out's editor-at-large Terry Shropshire and broadcast journalist NeCorey Johnson have been providing daily in-depth coverage of the De'Marquise Elkins' trial at Cobb County Superior Courthouse (Case #: CR-1300180-063) including:

Highlights of witness testimonies via editorial features and video, including alleged accomplice Dominique Lang
Updates on evidence submissions, including a .22 caliber handgun that has not been linked to the shooting
The conduct of the prosecution team, defense teams and witnesses
According to court records, the defendant Elkins, 18, was named as the shooter in the death of 13-month-old Antonio Santiago. The toddler was shot in the head while sitting in his stroller as his mother, Sherry West, walked down a street in Brunswick, Ga. on March 21, 2013. West claims two black men approached her and attempted to rob her, but when she refused, one of the men allegedly pointed a gun at little Santiago and threatened to kill him. Both West and Santiago were shot, however, Santiago's was fatal.
Elkins has been found guilty of felony murder, attempted robbery, aggravated assault and cruelty to children. His trial took place in Marietta, Ga. at the Cobb County Superior Court, which is 325 miles from Brunswick, was moved due to the national attention this heinous crime garnered pretrial. He was sentenced in Georgia's Glynn County Superior Court.
Please be sure to visit rollingout.com for exclusive coverage of the case.
About rolling out Magazine:
Rolling out, the nation's largest free urban weekly, is a digital and print magazine that focuses on the black experience in response to entertainment, politics, fashion, culture, sports and lifestyle points of interest. Headquartered in Atlanta, rolling out is positioned as the voice for the African American experience, using its newspaper as a platform in the marketplace to express urgency for education reform, and to document entrepreneurial endeavors and other relevant issues in the Diaspora. For information on rolling out, please log on to rollingout.com.