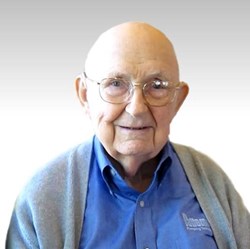 "What exciting possibilities await us when we complete our life work at the earth level and free ourselves from entrapment in the negatives of this life." –James B. "Burt" Rishel, Eternal Infinity
Cincinnati, OH (PRWEB) September 05, 2013
While saddened at the loss of this remarkable man, tekWorx remembers a long and illustrious life. Mr Rishel was the founder of Systecon and later of tekWorx, an ASHRAE fellow, and the author of two HVAC books. Affectionately known to friends and colleagues as "Professor Pump," Mr. Rishel's professional life was devoted to HVAC pumping and chilled water distribution.
tekWorx is committed to furthering Burt's purpose and honoring his legacy in chiller plant optimization. To read more about Mr. Rishel, a true pioneer, please visit tekWorx's corporate release.
James B. "Burt" Rishel
April 27, 1920-August 21, 2013
tekWorx LLC is the leader in chiller plant optimization. With its CEO® system, tekWorx enables clients to cut central energy plant costs up to 50% by using the plant's existing mechanical equipment and control systems. For more information, please visit http://www.tekworx.us.