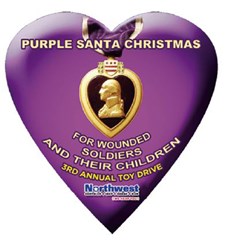 No Greater Gift Than Providing A Wonderful Christmas To These Amazing Children
Houston, Tx (PRWEB) September 12, 2013
"The world's alive with Christmas Joy! Come join the merry throng. You'll find upon your lips a smile, Within your heart a song.–Nadine Brothers Lybarger."
Christmas joy will be found on October 20th at Northwest Dodge in Houston for the 3rd Annual Purple Santa Toy Drive - Benefiting the Children of Wounded Soldiers and the public is welcome and encouraged to come and join this merry throng. Purple Santa was started to ensure that the children of our nation's war wounded had a Christmas to remember. These children are heroes in their own right because they have had to sacrifice to help with their parent's recovery and provide support; so to ensure that the smallest and many times unseen heroes have a wonderful Christmas Purple Santa was created by Wheelers for the Wounded and The Military Order of the Purple Heart.
The Toy Drive is to collect toys for children ages 3months to 16 years old and will be distributed to the children in December. Toys can be dropped off any time prior to the toy drive at Northwest Dodge or at any 4 Wheel Parts store in Houston.
On October 20th the day of the big event it will begin at 11:00am and conclude at 3:00pm at Northwest Dodge 19616 Northwest Freeway @ 1960, events for kids will included a costume contest with special prizes for the kids and trunk or treating for candy as well as bounce houses for them to play in. There will also be an off road vehicle show and shine with trophies awarded in several different classes. The day will include a huge raffle with numerous big screen TV's, Entertainment Systems, Ipads and Ipods and gift certificates for area businesses with all proceeds going to the purchase of toys for the kids.
It is asked that toys have a value of no more than $15.00 dollars it is better to give 10 toys valued at $15.00 dollars than one toy valued at $150.00 dollars. For more information visit the Northwest Dodge website.