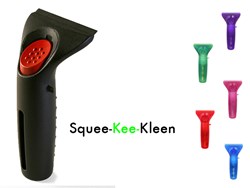 How often have you tried to clean your cars, trucks or motorcycles side mirrors, its not easy until you have tried the Squee-kee-kleen, it is the solution!
Montreal, Canada (PRWEB) September 04, 2013
Squee-Kee-Kleen, in Montreal, Canada on August 22, 2013 two local 3D product designers are excited to launch their project on the Kickstarter Crowd funding Website for their greatest little multi-purpose Squeegee called Squee-Kee-Kleen ( SKK ).
We like to think of the Squee-Kee-Kleen as the ultimate car, truck. motorcycle or home necessity, the Squee-Kee-Kleen was designed for every little mirror, headlight and glass cleaning job.
Easy Refillable Bottle: The Squee-Kee-Kleen solid Uni-Molded body construction get extra support from the rigid bottle which is made from a rigid and tough PET Plastic. It's easy to refill with what ever cleaner you wish to use.
Durable & Long-Lasting: Made of durable TPE, non-toxic material, the Squee-Kee-Kleen is designed to last a lifetime in your vehicle or home.
Patent Pending: The Squee-Kee-Kleen's novel Uni-Molded body design and construction make it a must have item for cars, trucks, boats and homes: Patent Pending 2013.
For additional information and to learn more about us and our project on our mini squeegee project please go to Kickstarter crowd funding campaign at http://www.kickstarter.com/projects/1308303505/the-greatest-little-squee-gee or our website at http://www.squee-kee-kleen.com.
You can also contact the designers: Sean Kieley skieley(at)surfaceid(dot)com or Steve Boa at sboa(at)colba(dot)net.
Please support the launch of this great product and be a part in help bring this product to the world. The Squee-Kee-Kleen will be available in 6 brilliant colors and comes with a built in spray bottle in the handle.
Pre order now, and be one of the first to receive your Squee-Kee-Kleen http://www.kickstarter.com/projects/1308303505/the-greatest-little-squee-gee