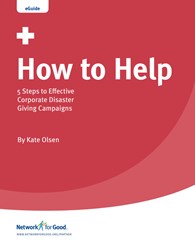 Disaster preparedness is essential if your company seeks to empower an effective giving response from employees and consumers.
Washington, DC (PRWEB) September 05, 2013
Today, Network for Good (http://www.networkforgood.org/partner) re-releases the eGuide, "How to Help: 5 Steps to Effective Corporate Disaster Giving Campaigns." This eGuide provides companies with a philanthropic plan to ensure on-the-ground impact gets where it's needed most: in the days, weeks, and months following a natural disaster. See how companies such as Campbell Soup Company, Capital One, Dell, Ryder, Yahoo!, and others mobilize disaster giving responses.
You can access the corporate disaster giving eGuide here.
"In the wake of a disaster, companies have the opportunity to lead with a philanthropic response," said Bill Strathmann, CEO of Network for Good. "Disaster preparedness is essential if your company seeks to empower effective giving from employees and consumers."
The new eGuide, written by Kate Olsen, Vice President of Strategic Projects at Network for Good, outlines disaster donation patterns and gives companies the tools needed to ensure an effective disaster giving campaign.
For more information on how to enhance your company's social impact program, visit Network for Good at networkforgood.org/partner.
About Network for Good
Network for Good is a social enterprise that empowers corporate partners and nonprofits to unleash generosity and advance good causes. Network for Good works with companies to help refine a cause strategy perfectly suited to business and philanthropic goals and implement effective cause initiatives powered by our proven donation platform. We also help nonprofits raise funds for their missions through simple, affordable and effective online fundraising services and offer free training through our online learning center, interactive online community, and Nonprofit911 webinar series. Network for Good has processed more than $875 million in donations for more than 80,000 nonprofits since our 2001 founding by AOL, Cisco, and Yahoo!