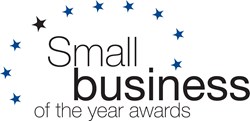 "Boston is not only the birthplace of many successful companies, it is a community that fosters corporate and social responsibility and supports its entrepreneurs. We're honored for our business to be recognized in such a great community."
BOSTON (PRWEB) September 03, 2013
The Greater Boston Chamber of Commerce announced that Boston advertising agency Small Army is one of top ten winners of its 2013 Small Business of the Year Awards. This year's awards will honor some of Greater Boston's top small, high-growth businesses and an awards breakfast for all honorees will be held at the Sheraton Boston Hotel on Tuesday, October 1.
Now in its 29th year, the Chamber's Small Business of the Year Awards recognize the achievements of Greater Boston's smaller for-profit companies with gross revenues of more than $1 million who display strong financial performance, achievement in management, workplace excellence, product innovation, and community or social responsibility.
"These awards pay tribute not only to the accomplishments of this year's impressive honorees, but also to the significant impact of all small businesses on our economy," said Paul Guzzi, president & CEO of the Greater Boston Chamber. "This year's honorees truly represent the entrepreneurial spirit that defines our region's small business community, and we look forward to honoring them on October 1."
Small Army is a full-service advertising agency that prefers to be viewed as "storytellers for confident brands." The company finds traditional marketing methods outdated and ineffective, and instead focuses on sharing stories that resonate with people in order to create relationships and drive conversation about a brand. Small Army helps its clients discover the "moral to their story" to inform successful communications strategy, media placement, social media conversations, product development, recruiting, and more. Small Army's client roster includes companies like GE, Reebok, Emerson Hospital, and Solidworks. The company also has its own non-profit organization, Small Army for a Cause, which has raised more than $600,000 for cancer charities through its annual "Be Bold, Be Bald!" event, which will be held on October 18th this year.
The agency continues to enjoy success with six new client wins in the first half of 2013, including past Chamber Small Business of the Year winner Finagle a Bagel, Northeastern University College of Professional Studies, network security company Arbor Networks, and CustomMade (a web-based marketplace matching buyers and makers for custom made items).
"I'm so proud of the team at Small Army, our clients, partners and friends for making Small Army one of the Top 10 Small Businesses in Boston," said Jeff Freedman, Founder and CEO of Small Army. "Boston is not only the birthplace of many successful companies, it is a community that fosters corporate and social responsibility and supports its entrepreneurs. We're honored for our business to be recognized in such a great community."
Read more about this year's honorees.
About the Greater Boston Chamber
The Greater Boston Chamber of Commerce is a broad-based association representing 1,500 businesses of all sizes from virtually every industry and profession in our region. The Chamber works to help Greater Boston-area businesses grow and succeed through its strategic networking events, impactful business advocacy and innovative leadership development initiatives. For more information, visit bostonchamber.com.