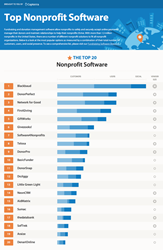 We believe that all software can help to make the world a better place by helping organizations better serve their missions...
(PRWEB) September 05, 2013
Capterra, an online service that connects buyers and sellers of business software, published a new infographic today on the Top 20 Most Popular Nonprofit Software Solutions. The infographic focuses on donation and fundraising management software. Blackbaud, DonorPerfect, and Network for Good were named the three most popular solutions.
Nonprofit software solutions, specifically fundraising and donation management, help nonprofits to manage their constituents by streamlining communication and database management for donors who give their time and money to these organizations.
"We believe that all software can help to make the world a better place by helping organizations better serve their missions," said Capterra president and CEO, Michael Ortner. "But nonprofit software is one of those categories that especially helps make the world a better place given the nature of NPOs' work. The software included in this infographic--and countless others not listed here--help nonprofit orgs get back to their cause instead of constantly managing databases."
Capterra used its software popularity index to determine the Top 20 nonprofit systems. The popularity index takes into account the software companies' number of customers, users, and social presence. For this infographic, the number of customers represents the number of nonprofit organizations using the software, whereas "users" indicates the number of individuals within those nonprofits that have access the software.
"It's estimated that there are nearly 1.5 million nonprofits in the US," said Ortner. "The more nonprofits that use nonprofit management software, the better these organizations will be able to raise money for their causes and recruit volunteers."
This is Capterra's 12th infographic in its "Top 20" software series. The company's previous infographics have covered multiple software categories, including: Learning Management Systems, CRM, Field Service Management, Marketing Automation and Electronic Health Records, to name a few.
About Capterra
At Capterra, we believe software makes the world a better place. That's why we love connecting buyers and sellers of business software. Our website shows companies all of their options and provides free tools to help them make the right decision. We provide software companies with a free listing on our comprehensive directory and give them the opportunity to upgrade for more exposure. For more information, visit http://www.capterra.com.